Alabama Luxury Quail Hunt
Located in the scenic Southern Appalachian Mountains, this Family owned and operated rustic luxury quail hunt lodge is located on 2000 privately owned scenic acres.  Southern style quail hunts over great pointers and flushing dogs via excellent customized quail jeeps.
Your luxury quail hunt lodge is a 14,000 square foot rustic luxury log and stone lodge boasts a lovely view of the surrounding mountains.  The chef adds to your experience with a wonderful array of southern dishes. The only way to really understand this experience is to come see it for yourself.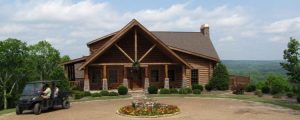 Many families as well as national companies are selecting this experience for their quail experience due to the lovely meals, views and luxury lodging.  The gently rolling hills of Alabama beckon guests to return year after year.
The property is located in Guntersville, Alabama with a private and commercial airport nearby.  The property offers a diverse terrain which allows for the combination of hunts offered.  Whether you are a first time hunter learning the ropes or a seasoned veteran looking to notch your belt one more time…this is what hunting dreams are made of!
Select from unlimited quail hunts or limited quantity depending on your budget with fast flying coveys and experienced guides.
Accommodations & Meals
Simply beautiful. The best view that Alabama has to offer is on the back porch of this lodge. The luxury log lodge encompasses 14,000 square feet with vaulted ceilings and adorned with African animals throughout the living areas.They also have a skeet range on the back patio, a hot tub, pool table, poker/card room, magnificent fireplaces and much more. There are eight bedrooms. Three bedrooms have king size beds, three have two double beds and finally they have two bunk rooms with eight beds. The lodge is a Verizon wireless "Hot spot". Click on the banner above for more lodge photos.
Delicious meals will be prepared by the lodge chef!
Fishing
Lake Guntersville is home to quality angling for a variety of fish but for largemouth bass it is considered to be one of the best in the country. The lodge charters professional guides for guests. They are constantly scouting the lake and catching fish. The type of fishing you do depends on what time of the year you decide to go. They will provide all tackle and gear to make your trip a success. If you prefer to bring your own equipment that is great.
Hunting
Quail Hunting:
2,000 acres located in the Browns Valley and managed especially for quality game bird cover.  You will enjoy traditional bobwhite quail hunting in plantation style, while experiencing a wide variety of terrain.  Grain Sorghum, Millet, Egyptian Wheat, Partridge Pea and winter greens have been planted to enhance the population of quail.
Your professional guide will be an Alabama native and an avid outdoorsman who grew up quail hunting.  Each guide will have 5-8 well-trained dogs from their kennels that include Pointers, Setters, and Brittanys. You will be driven in specially modified jeeps that have been designed with hunters in mind.
Combo Duck and Quail Hunts:
Duck hunt first thing in the Morning 6a.m. to 7:30a.m. Come back and enjoy a first class Breakfast and then head right back to the field for a late morning Quail Hunt. Then enjoy our traditional Southern lunch of Chicken and Dumplings and Chili then take an early afternoon nap, around 2:30p.m. Go back to the quail fields for an afternoon hunt. Or Arrive at Lunch and do an Afternoon Quail Hunt, Overnight, A.M. Duck hunt, A.M. Quail Hunt. Lunch then Depart
Duck Hunting:
Duck hunting in North Alabama is the states' best kept secret.  This lodge owns and leases flooded grain fields that border the Tennessee River and offer tremendous water fowling opportunities. The key to success is a limited number of hunts to minimize pressure on the ducks.
As well as hunting the flooded grain fields, you might have the opportunity to hunt flooded green timber as well.  Some may also want to harvest puddle ducks or hunt the river for divers.  Either way, you will be accompanied by a well-trained guide who grew up duck hunting and will use the right tactics to ensure success.
Typically these hunts are paired with quail or deer hunts as it is normal to limit out in the morning hunt.
Activities
Huntsville, Alabama is only 45 minutes from the lodge and offers one of the best space centers in the United States. Lake Guntersville is only minutes from the lodge. Enjoy touring the property and the outstanding facilities. Shoot clays off the back porch or lounge in the sauna enjoying the view. The lodge itself is luxurious and offers excellent sitting areas with big screen T.V.'s and a pool table. A card room for games is also a big hit with guests.
Rates
2018-2019  Prices:
Season: Mid-November till late January.
Quail hunts begin at $395 pp for half day hunts
Call for updated pricing
Trip Insurance & Cancellation Info
Trip insurance is highly recommended to protect your investment on this trip. We will assist you with trip insurance upon booking. See links at the bottom of this page for the two providers we suggest for our clients.
Family Expeditions, LLC confirmation and refund policy:
If your trip is more than 90 days out from date of departure, a 50% non-refundable deposit confirms your reservation and must be received within 10 days of booking to confirm your dates. All trips must be paid in full at least 90 days prior to the departure date. If your trip date is within 90 days, FULL payment for the trip is required. All payments to Family Expeditions are non-refundable. Should you need to reschedule or cancel your trip, we will do everything in our power to assist you in finding a suitable substitute or transferring your dates per the lodge/providers/government requirements. Trip insurance protects your investment!