Otter Creek, an Alabama luxury Quail lodge, sets the new standard for quail hunting in the south.  Separating Otter Creek from other luxury quail lodges is among other things, an infinity pool, sunken fire pit, cigar room, distillery, excellent chef, stocked fishing ponds, golf nearby, rustically luxurious lodging and to top it all, each guest enjoys an unlimited quail harvest.  Fast flying quail and large coveys hunted over excellent pointers and utilizing flushing cockers are a pleasure enjoyed by the most discerning experienced wingshooters.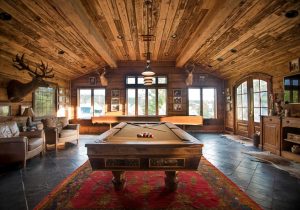 Otter Creek was born from the vision of native Alabamians, Jane and Frank Brown.  In 2011, tornadoes decemated their home lodge.  Making lemonade from lemons in 2013, Frank and Jane determined to build an Alabama luxury Quail lodge that would become the envy of the wingshooting community across the United States.  Indeed, they succeeded.
Otter Creek was featured in Garden & Gun's 2016 Best of the Sporting South, 25 Trips of a Lifetime for the Traveling Sportsman. Experienced wing shooters, large national companies and a list of recognizable names have already discovered Otter Creek Farm and have chosen to return for more Southern hospitality.
Built with the family in mind, southern hospitality abounds.  Frank and Jane love to host couples on the property!  If everyone in the group does not wish to participate in the hunt, cooking lessons, massages, game room, fishing, fly fishing lessons and the pool with jacuzzi are sure to entertain.
Location, location, location… Otter Creek is located just off I-20 between Atlanta and Birmingham with a 6,000 plus runway for private jets only minutes from the property.
Take a look at the "Make a difference" tab to see how this lodge is giving back to the community with some of the proceeds of the hunt.