Alabama Luxury Whitetail Hunt
Family atmosphere, exceptional luxury lodge, high success Alabama deer hunting, and quail hunting all in one fantastic destination.  This lodge is Family owned and operated. Those are some of the reasons why we chose this Alabama luxury whitetail hunt for you.  It is located on a 1400 acre preserve in the beautiful Southern Appalachian Mountains.  Luxury log accommodations  and delicious meals await you along with enormous whitetail!
Everyone enjoys the whitetail hunting here.  Why? Because while this is a preserve hunt, the deer roam freely on the property.  Your blinds are spacious.  You will see a lot of deer and the quality is exceptional.  Most hunters take home the whitetail buck of their dreams along with a great story to tell.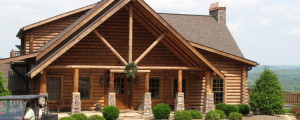 Should you wish to enjoy some fantastic quail hunting along with your deer hunting, quail hunting takes place in southern style.  You will hunt over great pointing and flushing dogs with customized jeeps.
Lake Guntersville is considered the number 2 bass lake in the country.  The lodge will arrange a local guide for prime fishing as an add-on to any trip or a stand-alone trip in the hunting off season.  Duck hunting is also available as an add-on to hunting trips during the duck season.
This is a fantastic experience for the family that loves to enjoy the outdoors together yet wants southern luxury at the same time.
Just think about it, in one three day trip you could shoot a monster whitetail buck, do a little Alabama Quail hunting and if the weather strikes just right do a little bass fishing and duck hunting.  An Alabama grand slam!