Michigan Luxury Whitetail Hunt
This family owned and operated Michigan luxury whitetail hunt is located in the heart of big northern whitetail hunt country!   So, what makes it a favorite of ours? Rustic luxury accommodations, warm service, humor, delicious food and whitetail hunting that reminds you of why you love it.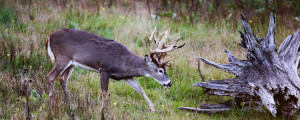 "The hunt of a lifetime that you'll want to go on over and over"
What separates this hunt from all the other high fence hunts?  Three things, the challenge and the people.
The "cast of characters" has a interesting mix of wittiness and authenticity  that will draw you back year after year.
Michigan luxury whitetail hunt takes place on 1,300 acres of mature hardwood ridges, open fields and misty hemlock bottoms in central Michigan for the crafty wild native Northern whitetail buck.  NO ONE really knows what roams in the woods.  Because the land is so dense, game counts are impossible.
There is no by the inch pricing!  As a result, this is a true hunting trip.  While there is a high opportunity to hunt giant whitetail, there is also no guarantee of success…a challenging hunting trip!
For two decades the family has intensively managed the herd.  As a result they have big framed northern Whitetails and carefully cultivated the ground for unparalleled hunting experiences.
As you enter the ranch the demands and expectations of your world quickly drop like antlers do late in the season…you feel a natural calm that can only be found in nature…you become part of "hunting camp" the way it used to be…you become part of this hunting family.
Owners of Family Expeditions have been hunting with this family for nearly two decades!  We love it and most importantly we love the people in this family!  Your family will love them too…