New Mexico Elk Hunt and Mule Deer Hunt
When we find a high opportunity New Mexico Elk hunt and Mule Deer hunt we can't wait to share it with you!  Nestled in a spectacular valley in northern New Mexico this 17,000 acre ranch.  The ranch is located on the Elk Highway in the southern San Juan Mountains. The San Juan Mountains are considered by many to be the most untamed and wildlife rich of all mountain ranges in the lower 48 states. One side of this ranch borders the Sargent Elk & Wildlife Preserve.  The other side is the Continental Divide.  Each year during November the entire Southern Colorado – San Juan elk herd makes its legendary annual migration from Colorado to New Mexico through this ranch. You have to see it to believe it!
This lodge is dedicated to providing unsurpassed service and personal attention to their clients in a relaxed family environment.
The lodge offers elk, mule deer & bison hunts on 17,000 acres of spectacular hunting bliss.  They also offer a 2,000 preserve which has a privately managed elk herd. Elk and bison may be hunted in the Game Park.  The free range hunts for elk and mule deer cover the remaining 15,000 acres. The lowest elevation on this beautiful, rugged ranch is 8,000 feet come in as good shape as you are able.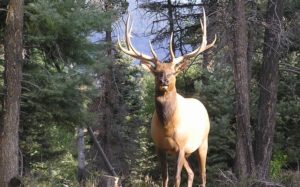 There are some fun activities for those that wish to join the hunter but not in the hunt!  Take advantage of ATV adventures, prairie dog hunting, cooking classes, hiking, horseback riding and mountain biking.  But of course if you want to join in on the elk hunt or mule deer hunt as and observer that is absolutely perfect!
New Mexico has long been known for exceptional elk hunting and mule deer hunting!  Now is the time to make plans for your next hunt here! Please give us a call to book your hunt.