Nicaragua Luxury Resort
This Nicaragua luxury resort and retreat sits on a 2,000-acre nature reserve in Nicaragua's Pacific countryside that offers opportunities to stimulate your mind, your body and your soul.  This lovely Central American oasis was created by Nicaraguan native, philanthropist and adventure enthusiasts whose commitment to nature is exhibited through the resort's core principles of respect and stewardship of the environment.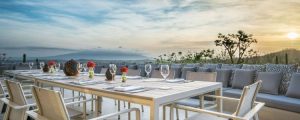 Nicaragua is the rage among seasoned travelers and this resort ranks among the "must see" around the globe.  On our visit, we were blown away by the exceptional service, lovely setting, horseback riding, fantastic meals and bar, shooting and a day on Lake Nicaragua that will forever be in-delved in our memory.  For those that love adventure in new exotic locals, you will not be disappointed.  Add to all of this that the owner of this property is one of the great philanthropists of Nicaragua and the globe.  We witnessed first hand his authentic love of country and the people of his country.
Nicaraguan paradise home to an animal sanctuary with more than 158 species of plants, including more than 14,000 trees that were planted throughout the reserve. Wildlife and fauna is sustained by the reservoirs developed by a team of local experts and ecologists. The sobering aura of the grounds serves as a backdrop for a variety of recreational activities and nature appreciation.  Then in an interesting twist, the finest shooting facility in Central American has been born on this property built by experts in the shooting fields.  Try your hand at sporting clays, skeet shooting, unique rifle courses all with experience instructors trained in safety and introducing new shooters to the sport as well as those with years of experience.
You will relax with the seamless confluence of sustainable nature-based design with Feng Shui inspiration, rich Nicaraguan culture and warm hospitality, nurturing exploration, adventure, wellbeing and peace. Experiences include horseback riding, mountaintop yoga, tennis, skeet shooting, organic gardening and cooking classes.