Quebec Luxury Red Stag Hunting & Elk
These Mountains are the site of  prestigious luxury trophy Elk and luxury Red Stag hunting.  The terrain at the estate is comprised of colorful hardwoods, large granite boulders, small sunlight meadows and multiple creeks feeding into several freshwater ponds and lakes. The Lodge is centered within this wondrous forested locale.  For the family, Close by is the luxurious ski town of Mont-Tremblant where there are numerous activities, luxury spa and great shopping.  A perfect combination of hunting and touring may be found at this fantastic destination for families with varied interests.
Renowned around the world for their antler genetic research, this estate is the first location to produce the "Double 500," where both an elk and stag score over 500 SCI points. This has been achieved by the estate's superior genetics, selective breeding, proper culling of inferior animals and by restricting the number of hunts each year.  Red stag hunts here are legendary.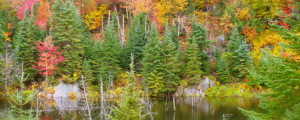 The Manitoban subspecies of elk is the largest of all the subspecies and can exceed 1200 pounds. They are known for their dark features, long tines, heavy beam mass and exceptional tops. Each year bulls are taken that score well into the top of the record book. The European Red Stag found here are undoubtedly some of the highest quality trophies found anywhere in North America. If you are looking for real trophy elk and/or red stag, look no further! Your success and satisfaction is their number one goal.
For the bow hunter, this is paradise.