Enjoy Canadian-style fishing without international travel on Lake Oahe in South Dakota! At this luxury lodge, you will be able to take advantage of some of the best-guided fishing the United States has to offer for trophy walleye, northern pike, and smallmouth bass.
Every day you and your experienced guide will board a fully equipped boat to take on a full day of exciting fishing. Challenge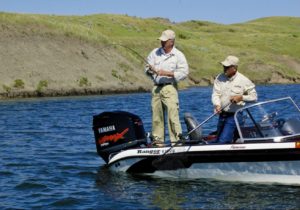 yourself to hit your limits using jigs, minnows, and flies. You will test your skills while fighting these strong fish. The lodge provides delicious lunch, snacks, and drinks to take with you every day. The convenient boat ramps are only 10-25 minutes from the lodge depending on where the fish are biting.
After a great day of fishing, relax in the luxury lodge with comfortable seating, great food, and competitive games. The cigar & cognac bar, game room, and fireplaces are sure to please!