Texas Whitetail Hunt – Junction
This beautiful 15,000 acre family owned Hill Country ranch near Junction, TX has several options for your next Texas whitetail hunt and exotics hunt. They offer a choice of large preserve Whitetail & exotics hunts or you may also enjoy free-range Whitetail, free-range exotics (such as Axis, Blackbuck & Aoudad among others) and great turkey hunting with the option to stay in two very different but very nice lodges. We would venture to say that for free range hunting in Texas, this will be the nicest lodging you will find.  On top of great lodges, you will have a warm and professional staff as the icing on the cake for this hunt.  High fence exotics are also available in a great variety of species.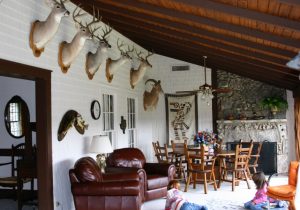 If you are looking for a great family destination where the children will be able to enjoy some fishing, kayaking, night vision hog hunting as well as great hunting high fence and free range.  Young guides that love teaching kids how to hunt and fish are a huge bonus at this lodge.
A Texas whitetail hunt is synonymous with the best of the best in the hunting industry.  For the avid hunter, Texas whitetail hunting should be counted among the most coveted of hunting destinations.
Only four to eight hunters at a time will hunt this large property.  We are often able to secure this lodge privately for smaller groups during the whitetail off season.  This is one of our favorite locations for a family that wishes to give a fantastic introduction to hunting for their children.