Wyoming Elk Hunt and Mule Deer Hunt
We are extremely excited about this fantastic Wyoming elk hunt, mule deer, whitetail & antelope hunt opportunity!  We have literally looked for over a decade to find a reasonably priced, low pressure, high success, trophy quality hunt with virtually a 100% success of drawing tags.
Over 200,000 acres near Riverton, WY in the south-central part of the state with elevations from 6,700' to 9,200'.  It is located along the infamous Green Mountain Range. This is incredible historical ranch has diverse terrain ranging from scenic timbered mountains and canyons to river bottom along the Sweetwater River. There are beautiful rolling open grasslands, lush sage, willow bottoms, canyons and high rock ridges. You can glass for game up to 2-3 miles away from most places on the ranch.
Home of the Pony Express Trail back in the days of the "wild west", messengers rode through this ranch and a few of the original rest stations are still standing today. There are literally thousands of wild horses roaming this area today.
BUT, HERE'S THE BEST PART! Since the ranch installed 4 water pivots along the Sweetwater River over 25 years ago game enjoys 640 acres of lush alfalfa! With no other food source similar to this for over 70 miles in any direction, game animals swarm to this ranch in huge numbers!  Now…all that being said, droughts do happen which make a big difference in the opportunity rates here.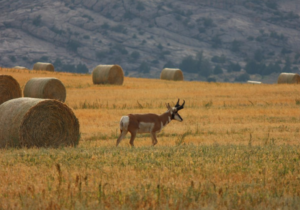 A resident elk herd roams freely in the alpine mountainous regions of the ranch. Large numbers of mule deer, whitetail and pronghorn antelope reside in the lower sage and grasslands on the ranch. With minimal hunting pressure and the best food source for miles this ranch provides hunters the chance for true trophy elk, mule deer and record book antelope.
They limit the number of trophies hunted each year to 6 elk, 6 mule deer, 5 whitetail and 3 antelope.