Zimbabwe Cape Buffalo Hunting
Your Zimbabwe Cape Buffalo hunting and plains game hunting safari will be located on 360,000 acres situated in the Southeastern lowveld of Zimbabwe.  This property is one of the largest privately owned conservancies in Africa boasting a prime hunting area of over 148,000 hectares and 48km of lush Bubye river frontage.
The simple but intimate lodge, settled among huge leadwood trees, consists of 2 units with two en-suite bedrooms in each. There is Wi-Fi and electricity is powered via a generator. The open-air dining room and fire-pit have the most beautiful view of the Mwenezi River which has pools of water all year. It is truly a hidden sanctuary that brings you closer to the wild!
Four of Africa's dangerous game species are available to hunt here. It is home to a strong population of Cape buffalo as well as hippo and crocodile. This property furthermore boasts some of the best leopard hunting in Zimbabwe, as well as a great number of plainsgame including giraffe, eland, nyala, kudu, bushbuck, wildebeest, zebra, impala, warthog, bushpig and steenbuck to mention a few.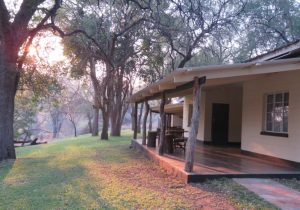 Continuous anti-poaching activities and measurements ensure that this wildlife reserve is constantly protected. Through these conservation efforts the population of the wildlife have increased over the years.
Accommodations & Meals
There are three bedrooms with baths.  Electricity is generated by a generator on sight.  A common area for gathering and outdoor dining as well as a fire-pit to gather at in the evenings and mornings.
Hunting
The untamed wilderness of this unique country makes Zimbabwe still one of Africa's top hunting destinations. Formerly known as Rhodesia, Zimbabwe is a 150,820 sq. mile landlocked country between the Zambezi and Limpopo rivers. It hosts not only breath-taking savannah and woodlands but also large bodies of water such as Lake Kariba and the famous Victoria Waterfalls.
Our trophy hunting season is all year round, but with the best hunting days during the dry, sunny, winter months (May to September). Average temperatures range then between 7°C and 20°C (45°F and 70°F) in comparison to summers that can be hot and humid (25°C to 38°C / 75°F to 100°F). Most hunting takes place in three different types of areas namely governmental hunting areas, tribal hunting areas and private hunting areas. Most of these territories are unfenced and open.
We also offer another amazing property in Zimbabwe known for its majestic elephant bulls while Lake Kariba is home to excellent trophy crocodiles and hippos.
When it comes to wing shooting, several species of duck, geese, partridge, guinea fowl, pigeon, dove and quail are available for hunting.
Travel Details & Location
The closest ports of entry to our hunting concessions in Zimbabwe are Victoria Falls International Airport (VFA) and Bulawayo International Airport (BUQ). Airlines that service these airports are South African Airlines, SA Airlink, British Airlines, Ethiopian Airlines and Air Namibia. We also make use of private airstrips at our concessions.
No worries!  Family Expeditions will assist you with all your travel needs.
Trip Insurance & Cancellation Info
Trip insurance is highly recommended to protect your investment on this trip. We will assist you with trip insurance upon booking. See links at the bottom of this page for the two providers we suggest for our clients.
Family Expeditions, LLC confirmation and refund policy:
If your trip is more than 90 days out from date of departure, a 50% non-refundable deposit confirms your reservation and must be received within 10 days of booking to confirm your dates. All trips must be paid in full at least 90 days prior to the departure date. If your trip date is within 90 days, FULL payment for the trip is required. All payments to Family Expeditions are non-refundable. Should you need to reschedule or cancel your trip, we will do everything in our power to assist you in finding a suitable substitute or transferring your dates per the lodge/providers/government requirements. Trip insurance protects your investment!