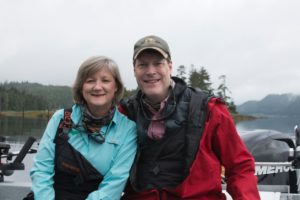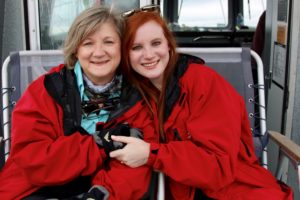 This summer, as Covid-19 restrictions began to loosen, our family was able to head up to Alaska to check out four new lodges for you! They included our Alaska Family Fishing and Adventure Lodge, Alaska Fishing Resort – Ketchikan, Alaska Luxury Fishing Lodge – Ketchikan, and Alaska Luxury Private Residence.
Our trip began with a masked-up day of flying to Ketchikan to our first lodge –  Alaska Family Fishing and Adventure Lodge. We were welcomed with the huge, warm smile of our host, Brad, who has owned the lodge for 15+ years. After the day of travel and an amazing dinner, we made ourselves right at home in our rustic three-bedroom apartment-suite as an amber fire lulled us to sleep.
Over the next two days we laughed continuously, fished to our hearts delight, and made new friends.
Saltwater fishing and unbelievably beautiful weather were on the agenda for the first day with our guide, Jay. We limited out of Halibut, caught too many Pinks to count, and even landed a Rock Fish and Dogfish Shark. The boat we fished on was state of the art with an indoor, *heated* seating area and on-board bathroom (a game changer for the kiddos and bad weather).  Day two saw us on a short hike to an idyllic lake where we fly-fished for the day. Our guides, Jay and Ian, were phenomenal, patient instructors to our daughter Josie who has not had as much fly-fishing experience. Each of us caught 30+ Dolly Varden each, often with all of us landing fish at the same time (thank you Ian and Jay for running back and forth so much to help!).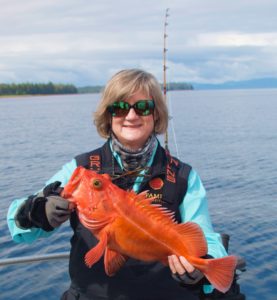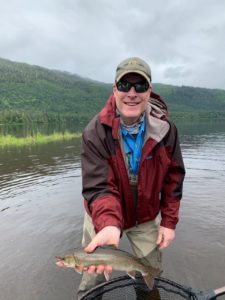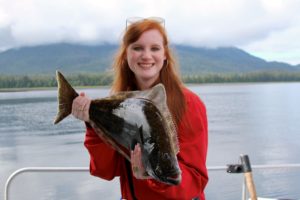 The three things which stood out to us about this lodge were the incredibly thoughtful and intuitive staff, the amount of activities they have for families (cave exploring, Totem Pole Parks, Whale watching, etc.), and the clear and patient education the guides provided our family when it came to fly fishing.
With heavy hearts we left our new friends on day three to fly back to Ketchikan. We stayed overnight at the Cape Fox where we had some of the best locally sourced food we have had in Alaska. If you have an overnight in Ketchikan, we will definitely be sending you to their restaurant!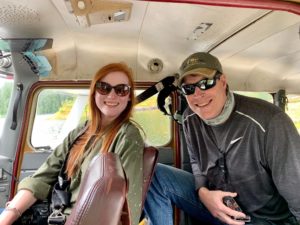 The next day we flew out early to visit the next three lodges. We arrived at lunch time to a spectacular lodge – Alaska Luxury Fishing Lodge – Ketchikan. This is easily one of the nicest fishing lodges in Alaska with hospitality to match! While Kevin and I went fishing with our guide Josh, Josie decided to stay at the lodge for the afternoon… and we are not sure which of us had more fun! We caught fish and enjoyed talking with Josh all afternoon, and Josie sat by the amazing stone fireplace with a never-ending cup of hot tea while looking out over the bay which sits in front of the lodge.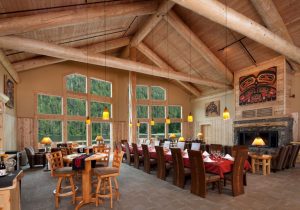 The second day the three of us went out to tour the next lodge, Alaska Fishing Resort – Ketchikan. This large resort was once a Salmon cannery and still holds its charm and history. After a fascinating tour around the facility and lodging with the resident historian, Babe, we went to fish the area. We caught our limit of Silvers and Halibut – the more for taking home the merrier!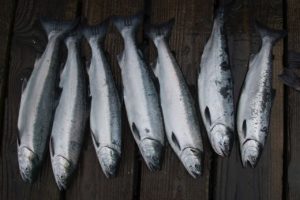 At this resort we were impressed by the fascinating history, the phenomenal hang-out rooms where guests from every walk of life can come together to share stories and make new friends, and the beauty of the areas we fished.
Day three we were back at our luxury lodge seeking more Halibut, Cod, Black Sea Bass, and Silvers to fill our freezer! Josie decided to stay in again (something about that fireplace and view really won her over somehow!?). Throughout the day she went beach combing around the bay, hiked and explored the paths around the lodge (she now says she believes in nymphs and fairies… not sure how I feel about that, but I think the point is that the woods around the lodge are stunning to say the least!), kayaked, and made friends with all of the staff.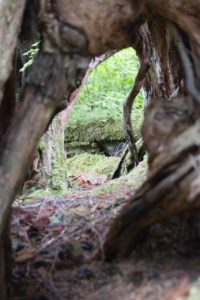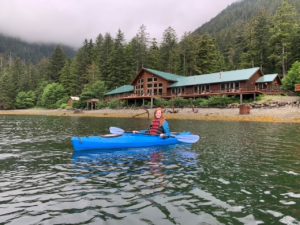 What caught our eye at this luxury lodge? The lodging is truly spectacular with incredible views from each room, the staff sincerely cared for each of us and anticipated our needs, and the proximity of the fishing area (about 15 min boat ride away!).
Oh, and did we mention that each of us had a massage from their incredible masseuse?  As you can imagine that was really hard on all of us, burdens of the job!
Finally, we visited the last lodge – Alaska Luxury Private Residence. This is a private lodge where your party of eight or less can enjoy complete privacy in luxury. We felt completely at home here. The private chef, guides, boats, and staff create a spectacular, personalized experience in the middle of wild Alaska! The fishing is the cherry on top with fabulous Salmon and Halibut fishing nearby.
Moral of the story: what an amazing trip! We made countless memories as a family and enjoyed meeting each person along the way. These lodges are amazing additions to our portfolio of lodges, which means we have even more options to pick from to plan your perfect Alaskan fishing trip!