Uruguay Luxury Bird Hunting
This Uruguay luxury bird hunting estancia for perdiz, pigeon, and dove hunting is located in the midst of the "Sierra de Minas" hills country only 45 minutes from the airport in Montevideo which offers daily flights from the US. A stream runs lazily through the property which presents stunning landscapes. Incredibly secluded, this estancia is only one hour from Punta del Este which is commonly known as the Riviera of South America. This destination combines great beaches with sophisticated restaurants, casinos, and shopping with fantastic Uruguay bird hunting.
This luxury bird hunting lodge was completed in 2013 and has been fully decorated and landscaped by the renowned decorator Carol Raquet. They can accommodate up to 8 hunters distributed among its 8 very comfortable luxury bedrooms or a maximum of 12 guests with a mix of observers and hunters.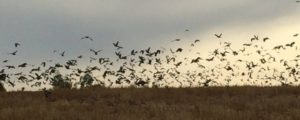 Perdiz is a world-class upland game bird hunted over well trained Brittany Pointers. These birds hold very well in ground cover that many times is no higher than your ankles. Perdiz do not covey, and are usually flushed as singles, or occasionally in pairs, but they are very challenging. Your mouth will water as our chef serves you a delicious dish of freshly prepared perdiz. Pigeon shooting takes place in harvest corn fields or sorghum plantations over decoys.  High volume afternoon dove hunts will leave your gun barrels to hot to touch.  Fields and plantations are constantly scouted by experienced guides.  One morning of duck hunting can also be a part of the schedule.
Service, luxury and delicious meals at this lodge are the perfect combination for a fantastic all around winghooting experience.  Please take a look at the photo section of this destination page to gain an understanding of this lovely Uruguay bird hunting property.  Uruguay should be listed among the wingshooting enthusiasts bucket list.
For the family in search of a luxury destination to please everyone in the group, this is the spot for you.
Prime Season:  April through July for Perdiz, Pigeon and Dove