Amazon Peacock Bass Fishing
Peacock Bass fishing in the Amazon!  Experience the explosion in the water as a huge peacock bass gets angry at the sound of your top water lure and determines that he is going to attack it to stop its intrusive noise. The Amazon is truly one of the very best river systems in the world for turning out peacock bass in excess of 20 pounds.
Since 1992, this outfitter continues to pioneer the Brazilian Amazon to maintain its reputation as the top adventure program for World Record Peacock Bass fishing in service levels, comfort, safety, and fishing productivity.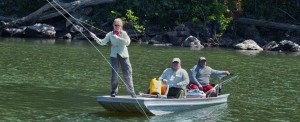 THE ABILITY TO BYPASS LOW WATER is the key to exceptional Brazil peacock bass fishing. So, in 1998 they set out to build deluxe shallow drafting fly-in floating cabins.
Sport fishing yachts, commercial fishing boats and even survival fishing must stop where low water prevents passage and beyond these barriers is where the great fishing starts!  Exclusive private fisheries on Indian reservations and government preserves make for exceptional fishing.
The highly mobile fly-in floating cabins are 4-6 hours upriver (even in a super fast bass boat) from these fringe locations. Drawing only 4 inches of water, the fly-in floating cabins navigate past shallow water natural barriers in comfort and style. Exclusive private fisheries on Indian reservations and government preserves make for exceptional fishing.
Wake up every morning next to remote virgin lagoons in the savagely beautiful Amazon Rainforest.
This outfitter uses three state-of-the art turbo prop Cessna Caravan float planes to whisk small 8 guest parties directly to the daily moving floating cabins.
To turn your angling fantasies into that fishing trip of a life time, join this Amazon Outfitter who optimizes logistics and comfort for World Record Peacock Bass fishing.
All trips with this outfitter are in exclusive areas including access to Indian reservations and government preserves (Tapera, Xeruini, Marmelos and Shufari). If you are bait casting or spinning, each day you can expect to catch 20+ fish with several up to 17 pounds and a great chance at one over 17 pounds.  A fly fisherman will see the greatest difference going to this exclusive area since they may catch over 35+ fishand have a better opportunity at 17+ pound fish!
This is a hard-core fishing trip!  Everyone going on this trip needs to really love fishing in remote locals where anything is possible.