Texas Aoudad & Mule Deer Hunt – Palo Duro
This Texas Aoudad hunt takes place in the spectacular rough & rugged Palo Duro Canyon in west Texas is known as a smaller version of the Grand Canyon and the location of this amazing hunt. Enjoy access to around 10,000 private acres around and in the canyon near Claude, TX.  Since, there is amazing road access into the canyon makes it possible to explore the canyon from top to bottom.
This terrain is ideal for Aoudad & Mule Deer! Both love this rough rugged country so their numbers are high along.  Aoudad are very good trophy quality while Mule Deer average 130 – 150 gross B&C. Rifle hunters have enjoyed extremely high shot opportunity on this very high success hunt!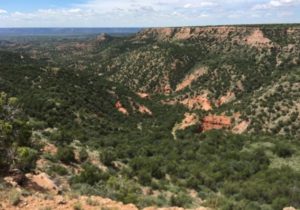 Your lodging is a very comfortable ranch house with a great cook and fun guides.  This hunt is best for those that want to participate in the hunt.  Therefore, if you have non-hunting guests that want to join you on your stalks that is fantastic!
One of the many things we love about this hunt is that the outfitter uses a large portion of the proceeds for summer camps that he operates.  Because of hunters, children that might not ordinarily get to enjoy the outdoors are exposed to the excitement of numerous hunting and fishing activities.
Photo creds to Palo Duro Canyon State Park