Oregon Luxury Upland Hunting
This Oregon luxury upland hunting lodge is more than the sum of its parts!  Four species of upland birds, 5 star lodging, and one spectacular 3,000 acre ranch all added together with a staff that "Welcomes you home" when you arrive.   The ranch owner/operator beams every moment as he shows you his prized possession.  His pride is magnified in every detail and among the staff as they all love the setting and sharing it with you.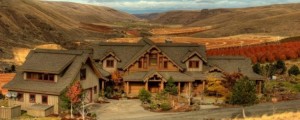 This Oregon upland hunting ranch is more than a fabulous operation; it is run with pride and concern for its clients and staff.  The lodge owner told us, "More business is done in this lodge than on any golf course."  True because the atmosphere is relaxing and conducive to gentlemanly/ladylike behavior and open discussion.
Arguably the finest upland bird hunting in the country and more importantly, a lodge and staff that eagerly builds relationships for the long term.  You will be planning your return before you leave your first trip.
British driven hunts designed by the famed British shooting instructor, Chris Batha, are offered at this lodge for discerning shooters that enjoys high flying challenging driven shoots.  No need to fly over the big pond.