This is an authentic "gaucho style" Argentinian hunt. If you are looking for a rustic experience where you are guided by a gaucho, stay in a hunting-camp style ranch house, and hunt a working cattle ranch then this is the hunt for you! You will have the opportunity to hunt monster free range and high fence red stag as well as water buffalo, blackbuck, axis, mouflon, dove, fallow deer, dorset sheep, and four horned sheep.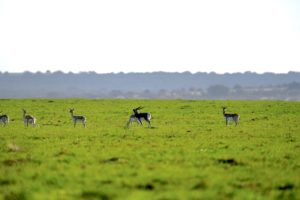 This outfitter has prioritized excellent natural management on his property. He has no added genetics but boasts red stag ranging from 250-350 SCI points both in the free range and high-fenced areas. These are exciting spot & stalk hunts either by truck (but there is no shooting from the trucks), hiking, or horseback as well as large box blinds. 36,000 acres of diverse terrain takes you from plains to dense brush to creek beds. The high-fenced area is about 2,400 acres.
The property's old ranch house has space for 6 guests in three bedrooms with their own bathroom. It is reminiscent of a hunting-camp style house with everything you need and nothing else. The comfortable seating includes a small living room with a large brick fireplace that includes the dining room. The food is classic comfort food: deer ham, wild boar ham, grilled lamb, vegetables and of course the traditional Argentine Asados.
This is the spot for families or groups looking to have an authentic-as-it-comes Argentinian hunt!