New Zealand Family Hunting Trip & Touring
Your New Zealand family hunting trip will take place on this 4,500 acre high-country station and private game estate located in the central South Island of New Zealand in the beautiful Canterbury high country. The largest registered hunting property in New Zealand. Family-owned and operated since the early 1970s, this exclusive property offers unique hunting and tourism experiences for discerning adventurers seeking a personal touch.  Whether you seek to hunt a trophy red stag, Himalayan tahr, Chamois, Fallow, Arapawa ram or simply to take in the ambiance of the majestic game animals in a natural, wide-open space, the game estate is a great place to spend some quality time and have a challenging hunting experience.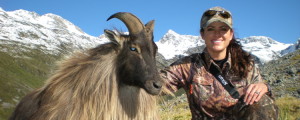 Their reputation is forged on the quality of their land, animals and facilities but most importantly, their commitment to provide you with an experience you will never forget. Their greatest reward is for you to leave the exclusive estate with a hunting experience they can't wait to share – a yarn to spin to their mates, bragging rights in the pub, a tale to impress their colleagues…more than just a trophy.
Fishing offered by the lodge is second to none in New Zealand.  You take advantage of the personal services of one of the island's finest fishing host/guides.
Reputation and client satisfaction are of utmost importance.  To sum it all up, your family will love this family and they will cater to your every need.  With a minimum booking, you may enjoy this lodge exclusively for your group.
For those that want a variety of activity, they offer a hunt, snow ski, and tour package!  Ski with a world ranked extreme skier in the famous New Zealand back country, ski private ski slopes, or learn to ski for the first time.  How many people can say they learned to ski in New Zealand?  Touring activities such as horseback riding, golf, heli-skiing, helicopter touring, hiking, spa, and quaint town exploring are endless as well.  See the full list under the "activities" tab.
Outstanding fishing adventures in prime rivers and streams in the area accessible by four wheel drive vehicle and heli access!  Even more amazing combine hunting, fishing and numerous eco adventures.
AGE APPROPRIATE: 8 yrs and older.  Baby sitters are available should you wish to bring younger children on this experience vacation.