New Zealand Family Hunting Trip & Touring
Your family friendly hunting trip in New Zealand will take place on the largest registered hunting property in the country. In fact, this New Zealand hunting outfitter has 4,500 acres of high-country, private game estate which has been family owned and operated since the 1970's. The property is on the South Island in the beautiful Canterbury high country. With many activities, this is the best family friendly hunting lodge in New Zealand because its property offers unique hunting and tourism experiences.
Whether you are after a trophy Red Stag, Himalayan Tahr, Chamois, Fallow Deer, Arapawa Ram or want to experience all the amazing activities and sightseeing New Zealand has to offer, this is the lodge for you. Here you will enjoy incredible activities and have a challenging hunting experience.
On your family's hunting trip you can enjoy activities such as skiing, horseback riding,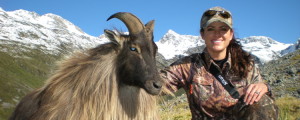 skydiving, wine tours, golf, spa, helicopter touring, hot air balloon rides, fishing, shopping, whale watching, and so much more! These activities make this lodge the most family friendly hunting lodge in New Zealand. You can see the full list of activities under the "activities" tab.
This is the perfect lodge for those seeking a personal and diverse experience. This New Zealand hunting outfitter's amazing reputation has been built on the quality of their land, animals, and facilities. But most importantly, it is due to their commitment to providing you with an experience you will never forget. Above all, their greatest reward is for you to leave with a hunting and touring story you cannot wait to share – not just a trophy.
Making sure their clients are happy and taken care of is your host's first priority. To sum it all up, your family will love this family, and they will cater to your every need. With a minimum booking, you may enjoy this lodge exclusively for your group.
In addition to unbelievable hunting, the fishing offered by the lodge is second to none in New Zealand. Experience fishing with one of the island's finest fishing hosts/guides. The outstanding fishing adventures in prime rivers and streams in the area are accessible by four-wheel-drive vehicle and helicopter! Even more amazing, you can combine hunting, fishing, and numerous eco-adventures.
For those that want a variety of adventure on their trip, they offer a hunting, snow skiing, and touring package! Ski with a world-ranked extreme skier in the famous New Zealand backcountry, ski private ski slopes or learn to ski for the first time. How many people can say they learned to ski in New Zealand?
Accommodations & Meals
Guest Lodge: The lovely 2500 square foot 4 bedroom guest lodge is located on property.  It offers has 4 ensuite bedrooms with two cabins sharing a common bathroom in the middle of the building (5 total bathrooms), dining, deck, and balcony.
Resort lodging:  Located just down the road from the hunting estate is a lovely resort.  Should you wish to stay here as an alternative to staying on property, we can make such arrangements with advanced notice.  The pricing for this will be dependent on the available lodging options.
Fishing
It is no secret that New Zealand offers some of the best trout & salmon fishing in one of the world's most spectacular locations. If you are considering coming to New Zealand to hunt and happen to enjoy the feeling of a fat trout on the end of your fly rod at the same time, then no trip prior to May should be considered without entertaining the option of some of the superb local fishing.
Fly-fishing and hunting go hand-in-hand in New Zealand. The hunting estate's  location in the central Canterbury high country, strapped between the Rakaia and Waimakariri rivers, means you are in prime fishing country. Untouched mountain streams, clear alpine lakes, wide, braided river systems and fast flowing narrow gorges offer a wide variety of challenges for the avid angler.
This outfitter employs specialist fly-fishing guides. Utilizing four-wheel-drive vehicles, jet boats and helicopters, they are experts in accessing, locating and putting you in the position to make that vital cast. Then it is up to you! The team is dedicated to ensuring you go home with some fine stories with the photos to prove them.
Should you shoot your animals early, and assuming the fishing guides are available, you can add fishing to your package at no additional expense for the extra days left on your trip.  They consider fishing an even swap for unused hunting days.
Hunting
Over twenty years of active management has enabled this outfitter to build high-quality herds of trophy red stag and other game species.They have worked hard to do this while also striking a balance with the natural environment and ecology of the hunting area.
Depending on what you seek to harvest, we recommend you allow at least two to three days per species or longer if you plan to seek the additional alpine species such as tahr and chamois.
All of New Zealand's game animals were introduced over the past two hundred years by European settlers who sought to replicate aspects of their homelands in islands previously inhabited by birds alone. The effect of animals – domestic, farmed and wild – on this environment has been huge, but nowadays environmental impact is a very important consideration. Their game animals are carefully managed to provide the best possible trophies and hunter experience with minimal environmental impact.
Ever since deer were introduced to New Zealand, this elite estate has enjoyed a reputation for the pursuit of one species in particular – the majestic Red Stag.  First liberated in the Rakaia river valley in 1897, the famous 'Rakaia Red' bloodline provides the modern hunter with a magnificent challenge and rich rewards.  The game herd is based on the Rakaia bloodline and has been managed for over thirty years to produce superior trophies. Rakaia Premium stags are the elite animals produced annually through their game-management practices and availability is thus very limited.
In addition, they also have Fallow Buck, Wapiti (Elk), Chamois, Arapawa Ram, Wild Boar and Alpine Goat roaming the estate, each presenting a unique and different challenge to the hunter. Small game such as rabbits, hares, possums and game birds including mallard ducks, paradise ducks, Canadian geese and black swans abound and are all be included in your experience.
For hunters who wish to further experience New Zealand's magnificent environment, the outfitter can organize fully free-range wilderness hunts for Red Stags on over fifty thousand acres of private land. New Zealand's other large game species, Himalayan Tahr and Chamois, are available in the surrounding alpine ranges. Utilizing helicopters to assist initial access, the hunting is otherwise accomplished on foot. Free-range wilderness hunts will give the hunter a true experience of the magnificence and grandeur of New Zealand's alpine scenery and superb wildlife.
Archery hunters are welcome and enjoy high success in the area.
Activities
Other Activities:
Observers aren't just welcome – they are an absolute priority! To prove this, this destination has developed a range of activities. Some are available on-site, or are a short drive or a full day-trip from the lodge. Please request pricing from us as many of these activies can and do change cost frequently. They also depend on numbers and duration, so please let us know what interests you.
Lodge Activities:
These activities are available on-site and do not require additional guiding or transport. Actual activity costs are available on request and will be charged on the final invoice.
Golf: Play a round at the 18-hole championship course at Terrace Downs Resort.
Scenic Walks: Walk the spectacular 10km / 6 mile Rakaia Gorge Walkway from the lodge.
Sporting Clays: Try your hand at clay target shooting with professional instruction and coaching.
Archery: Not the hunting kind, but rather you will shoot recurve bows at fixed targets Robin Hood style.
Tennis: Make use of the two premium all-weather courts a short walk from the lodge.
Spa: Relax with a massage or rejuvenating spa treatment at the resort's spa.
Heli Biking: Enjoy a day of spectacular flying and biking through incredible alpine scenery.
Heli Hike: Fly to a high ridge then hike its length to ever changing views and a picnic lunch.
Heli Glacier: Take a helicopter over untouched icefields with a picnic lunch ' way out the back'.
Short Trips
These activities involve a short drive from the lodge, priced depending on distance. Actual activity costs are available on request and will be charged on the final invoice.
Horse Riding: Ride a horse through classic Canterbury farming country on a guided trek.
Jet Boating: A fast boat trip up the Rakaia Gorge that is both exciting and scenic at once.
Sky Diving: Jump a plane at 12,000 or 15,000 feet over stunning South Island scenery.
Guided Walks: Travel a little farther afield with our guides for amazing local hikes.
Hot Air Ballooning: Experience the utter stillness and exhilaration of a scenic country balloon flight.
Fly fishing: Cast a fly or nymph for a trophy brown or rainbow trout with one of our guides.
Salmon Fishing: Chase beautiful King Salmon in the Rakaia River with a Jet Boat tour thrown in!
Daily Guided Trips and Adventures
These require a guide and vehicle for a day, priced depending on distance. Actual activity
costs are available on request and will be charged on the final invoice.
See the Farm Tour: Farming operation and hunting estate with a barbecue hut lunch.
Wine Tour: Experience some of Canterbury's best wines on our scenic Waipara winery tour.
Akaroa Tour: Canterbury's charming French seaside colony with art, shopping and cafés.
Christchurch: Food, shopping, history and earthquake damage characterize the local city.
Canyoning: Abseil, jump and rappel while you experience the awesome sport of canyoning.
Scenic drives: Join us for a scenic drive to local attractions, landmarks and movie locations.
Garden Visits: Visit private homesteads and their spectacular gardens of friends of your hosts.
Shopping: Take a tour of the finest local arts, crafts, fashion and food establishments.
4×4 Adventures: Go off-road with experienced drivers through beautiful private land and farms.
Rafting: Raft the mighty Rangitata Gorge complete with Grade 5 + whitewater rapids.
Deep Sea Fishing: Take a private charter boat off the East Coast for a day of incredible seafood.
Salmon Fishing: Visit the town of Tekapo and the Hydro Canals to catch a big King Salmon.
Whale Watching: Take a day trip to Kaikoura to observe huge Humpback Whales up close.
Dolphin Swim: Swim with the rare Hector's Dolphins out of beautiful Akaroa Harbour.
TranzAlpine Train: One of the world's great train journeys, through the Alps to the West Coast.
Hanmer Hot Pools: Experience the geothermal marvels of North Canterbury at Hanmer Springs.
Guided Skiing: If you're here in our winter, we can take you skiing at six diverse ski areas.
Heli Skiing: We have New Zealand's best big-mountain heli-skiing right on our doorstep.
There is a lot more that we haven't listed here – Canterbury is a big, diverse province with a huge amount to offer the adventurous traveler. If there is something that you, your spouse or a member of your party really wants to do, just let us know. We have plenty of connections, and we'll dig deep to find something you will love.
Length of Stay / Itinerary
Each itinerary is custom built for your interests.  A typical stay at this lodge is 4-7 nights plus touring.
Family Expeditions will build a perfect touring itinerary to compliment your hunting.
Day 1: Arrive in Christchurch where you will be greeted by your host and transfer to the hunting property.
Day 2 -?:  Enjoy hunting and the many other activities available!
Departure day:  Your host will transfer you by road back to Christchurch
NOTE:  Helicopters are available for transfers and touring.
Travel Details & Location
Your flight destination is Christchurch, New Zealand which is located on the South Island.
Internet & Communications
Wifi and cell service are available.
Changing Generations
As an established, community-minded enterprise, we believe in giving back to the hunting and outdoor community. This lodge is involved with a number of charities and fundraising organizations, including Disabled Hunting New Zealand (DHNZ) and the Step Ahead Trust. They work closely with the New Zealand Deerstalkers Association (NZDA) to provide a venue for their young hunter training (HUNTS) courses and are active supporters of responsible game and land management practices in New Zealand and globally.
MAKE A DIFFERENCE: CHANGE YOUR FAMILY'S OR SPOUSE RELATIONSHIP ON THIS TRIP:  IT'S SIMPLE
Wouldn't it be wonderful if you could add more meaning and improve your relationships on every vacation with your family or spouse? Below are two easy steps to becoming intentional as you travel:
TWO EASY STEPS:
1.  Watch this video:
2.  Click on the link below for step by step ideas of how to add more meaning to your family/couple travel:
Rates
2024 Rates:
Lodge Packages begin at $7,000 pp and includes lodging, meals and guides.
Call for more details
Trip Insurance & Cancellation Info
Trip insurance is highly recommended to protect your investment on this trip. We will assist you with trip insurance upon booking. See links at the bottom of this page for the two providers we suggest for our clients.
Family Expeditions, LLC confirmation and refund policy:
If your trip is more than 90 days out from date of departure, a 50% non-refundable deposit confirms your reservation and must be received within 10 days of booking to confirm your dates. All trips must be paid in full at least 90 days prior to the departure date. If your trip date is within 90 days, FULL payment for the trip is required. All payments to Family Expeditions are non-refundable. Should you need to reschedule or cancel your trip, we will do everything in our power to assist you in finding a suitable substitute or transferring your dates per the lodge/providers/government requirements. Trip insurance protects your investment!