Texas Luxury Exotics Hunt & Resort
Whitetail and Exotics hunting at a luxurious resort in Texas, does it get any better than that?! This luxurious exotics hunting lodge with amazing activities pairs a beautiful pool, spa, hiking, luxury accommodations, skeet shooting, horseback riding, wine tasting and more with fabulous whitetail, exotics, turkey, and upland bird hunting in the heart of Texas. Hunt this lodge's 11,000-acre property for Axis Deer, Gemsbok, Red Stag, Addax, Aoudad, Blackbuck, Whitetail, Texas Dall Sheep and more.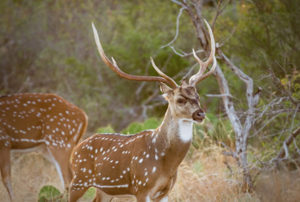 The luxury lodging will have you wishing you could make this your new home! The diverse and luxury lodging options will thrill your party. For example, you can choose between one of 16 in-lodge luxury guest rooms, 16 luxury cabins, or the 7-room villa. This resort allows you to easily walk from your cabin to the main lodge or to the pool area. The main lodge has a large hangout area with a tv and a game area with billiards, TVs, and shuffleboard.
The goal of hunting on this property is to preserve the land and managing the herds well. This resort works hard in their management. As a result, they have enough vegetation to produce animals which have reached their genetic potential. So, this means you will only be hunting for mature, trophy quality Axis, exotics, and Texas Whitetail at this luxury lodge.
This is a lodge where everyone will be happy, and you will make incredible memories together. This would be a fabulous get away for fun, adventure loving couples celebrating an anniversary or just wanting some away time together. Discerning observers will be well taken care of with numerous activities and luxury lodging (or they can join you on the hunt!), while the hunters will be participating in Texas' incredible hunting opportunities. No one misses out at this lodge!
A private FBO airport is located on property for private planes.
Accommodations & Meals
Your group can stay in one of three luxury lodging options: the bedrooms, cabins, or a 14-person villa. Each is furnished with custom pieces and bedding. They are characterized by a luxuriously warm feel.  32 rooms total.
Each option is equipped with:
Daily housekeeping services
Coffee Machine
Custom duvet covers & linens
Bathrobe and slippers
Luxury bathroom amenities and bathroom kit
Landline phones for all calls
Wireless Internet access
Television
Thermostat for air conditioning & heat
Hairdryer
In-room safe
Ironing board & iron
In-lodge bedrooms
The bedrooms are in the main lodge, making it a quick walk to the game room or lounge areas within the building. These are well-appointed rooms with king beds and en suite bathrooms. You will have everything you need to power up for the next day's adventures.
Cabins
The cabins are but a stone's throw away from the lodge. There are several options in the cabin format. Choose a room with an oversized king, two queen beds, or a fabulous family cabin with two queen beds and a twin bed. Each has a sitting area and a large en suite bathroom.
Villa
The final option is the 7-bedroom, 6-bathroom villa. This home has been luxuriously and professionally decorated with beautiful, handmade furniture; everything has been set up with your comfort in mind. It has a media room, private swimming pool, beautiful gardens, and a BBQ area. Just 5 minutes from the lodge, this is a unique experience in a beautiful setting.
Main Lodge
The main lodge is stunning and comfortable. Enjoy the in-lodge game room with billiards and shuffleboard, the humidor, and other sitting areas. The furniture is welcoming and provides the perfect setting to watch a football game or share hunting stories. The stonework and dark woods create a welcoming feeling.
Meals
Meals are served in a large dining building a short walk from the main lodge. This warm room is where you will eat your meals. For breakfast and lunch, you can choose your meal from a full menu. Dinner is a fixed menu Wednesday – Saturday, and a full menu Sunday – Tuesday. The Wednesday – Saturday meals each have a fun theme.
You will have a continental breakfast before you go out for your morning hunt and will return for the full breakfast.
There is a strong emphasis on using locally sourced ingredients that the culinary staff takes great care in selecting. These ingredients would be used in meals such as wood-fired pizza, BBQ, steaks, or Fajitas. The team takes great pride in their work, so your food will always be delicious and presented well. They also have a large selection of wines to accompany your meals.
Hunting
Exotics
The Exotics hunts are fully guided. These hunts consist of spot and stalk hunting and some blind hunting. The terrain on this property has facilitated great growth for the exotics and makes for an exciting hunt.
If you are after an Axis, the best time to hunt one has traditionally been May – July, but you can hunt all exotics year-round.
Whitetail
This lodge has been awarded for its premier whitetail on the property. As with all of their animals, they take great care in managing the populations and increasing a high-nutrition environment for them. The Whitetail hunts are primarily conducted from custom blinds.
For both Whitetail and Exotics, the guides are constantly monitoring herds to be sure their guests have the best and most successful hunt possible.
 Wingshooting
The wingshooting consists of Quail, Chukar, and Pheasant hunts. A mix of pre-season release and the large population of native birds make these hunts thrilling, to say the least. From September to March, you can choose to hunt any of these three or do a combo hunt. The well-trained dogs and guides will add fun to your hunt as you watch them work and help you succeed.
Turkey
Turkey hunting is also an option here. Hunt from the incredible population of Rio Grande Turkeys that live on this property. Your guide will help you execute the hunt and assist you in achieving one of the most rewarding hunts: getting a gobbler during the spring season.
Whitetail Season: November – January
Subject to change yearly.
Exotics Seasons: Year Around
Wingshooting Season:
Upland Quail package: October – March
3 Bird hunt package (Pheasant, Chukar, and Quail): October – March
Turkey Hunt: Spring or Fall
Trophy List:
Whitetail Deer
Axis Deer
Blackbuck
Red Stag
Fallow Deer
Texas Dall Sheep
Common Mouflon
Black Hawaiian Sheep
Corsican
Jacobs 4 Horn Sheep
Barberry Aoudad
Catalina
Snow Urial
Addax
Simitar Oryx
Gemsbok
Activities
This lodge has an extensive list of activities, ensuring that everyone on the trip has a fabulous experience. If members of your group are not all-in on the hunting, they can pick from these fun activities to participate in!
Included Activities:
Trail & Bike Riding
Hiking
Infinity Swimming Pool & Hot Tub
Jak Nicklaus Putting/Chipping Green
Fully Equipped Health & Wellness Center
Game Room with Shuffleboard, Billiards, TVs
Walk-in Humidor
Added Expense Activities:
ATV Adventures (16 & over – valid Driver's License)
Off-Road UTV Adventures
Guided Ranch Tours
Horseback Trail Ride
Horseback Psychology
Spa & Wellness
Karaoke
Paint & Sip Classes
Cowboy Cookout
Cooking Classes
Wine Tasting
Whiskey Tasting
Skeet & Trap Shooting
Long Range Shooting (up to a mile)
Pistol Range w/ Competition Targets
Rifle Range
Sporting Clays
3D Archery
World Renowned Senora Caverns
Golf
Fredericksburg Wine Tour
Enchanted Rock Adventures
Shooting Lessons
Length of Stay / Itinerary
Travel/Hunt Schedule: A typical itinerary is below but customized dates are available. The usual length of stay 3 nights/4 days.
Thur PM – Arrive (can hunt this evening if you arrive early enough)
Frid & Sat – hunting/activites/etc.
Sun AM – hunt until departure midday or later
Travel Details & Location
The lodge is located near Sonora, TX.  Most guests fly into San Antonio and rent a vehicle to drive to the lodge which is about a 2 1/2 hour drive.
Private flights:  PRIVATE FBO AIRPORT ON SITE
Private planes can fly directly to the property as they have their own landing strip.
Given our location in the central United States and minimal air traffic in the immediate area, this may well be one of the most efficient FBO's for refueling cross-country flights. "FAA Approved Special GPS/RNAV Instrument Approach Procedures" are available, but please note FAA Operational Approval is required to use these procedures. Additional inquiries regarding our facilities and services may be solicited via the forms below.
Runway:  5300' x 80' asphalt top.  Fully lighted.
Internet & Communications
Wifi is available at the lodge and cell service works well.
Rates
Please reach out for pricing details.
Trip Insurance & Cancellation Info
Trip insurance is highly recommended to protect your investment on this trip. We will assist you with trip insurance upon booking. See links at the bottom of this page for the two providers we suggest for our clients.
Family Expeditions, LLC confirmation and refund policy:
If your trip is more than 90 days out from date of departure, a 50% non-refundable deposit confirms your reservation and must be received within 10 days of booking to confirm your dates. All trips must be paid in full at least 90 days prior to the departure date. If your trip date is within 90 days, FULL payment for the trip is required. All payments to Family Expeditions are non-refundable. Should you need to reschedule or cancel your trip, we will do everything in our power to assist you in finding a suitable substitute or transferring your dates per the lodge/providers/government requirements. Trip insurance protects your investment!