Overview of Alabama Luxury Wingshooting
The ideal, luxury corporate or group wingshooting experience can be found in southwest Alabama! This luxury lodge provides an incredible quail, pheasant, duck, whitetail, exotics, and fishing experience for groups looking to strengthen relationships and have fun. Pair your outdoor sporting with activities such as long-distance shooting, skeet shooting, sporting clays course, kayaking or canoeing, buggy tours, and pistol range. This lodge prioritizes successful hunting, fun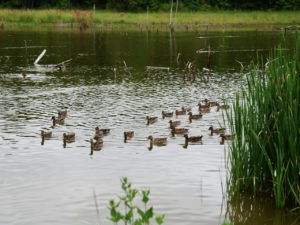 activities, and relaxation.
Walk the fields of the property during your first-class quail and pheasant hunts. Each field is named after a college football team, so you will enjoy the comradery that comes with heckling your friend's shooting, watching the dogs work, and debating sports teams. The duck hunting here is second to none with flight-conditioned birds that are ready to make you work! Your expert guides and dogs will do the work of tracking limits and collecting the birds while you do the easy part: enjoying!
If you are looking for big whitetail deer, this is your spot. By selecting only the best quality animals to form their herds and feeding them nutrient-rich foods, the herds boast large racked bucks. There is an opportunity for elk and fallow as well with smaller herds throughout the property, but they are very elusive. Your guide will lead you on your hunt either in a blind or on-the-ground spot & stalk hunting.