Spanish Driven Bird Hunt
This owner operated luxury hunting company is the oldest single owner and finest outfitting company in Spain established in 1975. Years of hard work, dedication, and satisfied hunters are their best endorsement.  This Spanish driven bird hunt should be counted among your lifetime hunts.
"The red legged partridge, one of the fastest FLYING birds. These birds will put your shooting abilities to the test. It´s hard to get more action than on a well organized drive." Beltran
This warm and inviting family and their family of guides will treat you to an experience your entire family will remember for the rest of their lives. You are sure to fall in love with the culture and the amazing hunting Spain has to offer. When you meet the owners, you will immediately know that you are in excellent hands and with people that you will want to hunt with for years to come.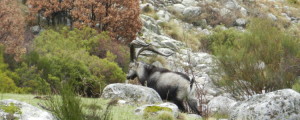 Amazing driven Red Legged Partridge hunting during the fall and winter months is sure to add fantastic memories for all for life.  It is has been a long time tradition in Spain. The Red Legged Partridge is a fast flying bird that follows the contour of the terrain. They normally organize groups of 6-8 shooters for a program of three days shooting and four nights. The average bird bag for the three days is 1800 birds between the whole line.
You will enjoy four different drives every day. Each shooter has a loader and a "secretario" which carry all the guns and shells around the field. Two guns of the same gauge are very recommendable as the birds normally come in flocks. It is once in a life time experience for any avid bird shooter. The accommodation during the shoot is at the owners' 14th century luxury lodge only a 15 minutes drive from the hunting fields.
The owners of this lodge will never brag on their client list but we know from our experiences that kings, presidents, and high profile clients are their norm.