Argentina Dove Hunt Cordoba
The Argentina Dove Hunt Cordoba in the province in central Argentina offers the best of the best when it comes to volume dove hunting. It is simply the most exciting and entertaining dove hunting in the world. Experience the world's finest bird hunting while you enjoy Argentina's famed hospitality.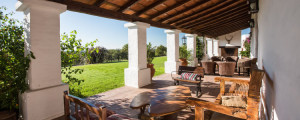 We are pleased to present the most renowned lodge in Argentina's Cordoba Province.  This location is what we are all about- abundant game, great accommodations, wonderful service and fabulous food. You will be well cared for and escorted from the moment you enter customs to the moment you return to the airport.With this luxurious owner operated lodge, not only can you expect to have the bird hunt of lifetime, but you will also feel instantly at home when you are welcomed upon arrival at the estancia.  This lodge combines the elegance and tradition of yesteryear with the luxury and convenience of modern living.
During your stay you will feel that you are staying with friends, enjoying a wonderful mix of great Argentina gunning and relaxed country estate living.  For those in your group that wish do enjoy other activities, they will be catered to with various activities in the area. An on sight masseuse will sooth the sore muscles from volume shooting.