Spain Luxury Big Game Hunt
This Spain luxury big game hunting company is the oldest single owner outfitting company in Spain. It was established in 1975. Because of years of hard work, dedication, and satisfied hunters they enjoy the finest reputation in Spain.  You will surely count your Spain luxury big game hunt as one of your lifetime highlight adventures.
Spain is best known for their Ibex hunting.  You will have access to the best hunting land which is key to great trophy success.  Because of their exceptional reputation, they are entrusted with the finest hunting properties.
Your entire family will experience the warmth of this inviting family.  Their family of guides will treat you to an experience your entire family will remember for the rest of their lives. You are sure to fall in love with the culture and the amazing hunting Spain has to offer. When you meet the owners, you will immediately know that you are in excellent hands.  These are people that you will want to hunt with for many years to come.  For those that may not wish to hunt, the lodge has a dedicated tour guide.  Your guide will introduce you to the many quaint and inviting towns in the area.  Wonderful shopping is also nearby!
The list of animals to hunt is numerous from Ibex to Mouflon Sheep, Chamois, Red Deer, Roe Deer, Fallow, Sheep, goat and wild boar.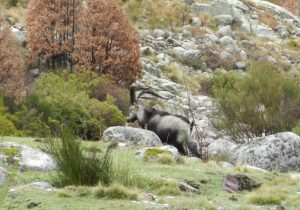 The owners of this lodge will never brag on their client list but we know from our experiences that kings, presidents, and high profile clients are their norm.
For an adrenaline filled hunt try your hand at a driven boar hunt or bow Ibex!  You will enjoy high opportunity hunts with a bow for Ibex.
Take advantage of some of the most beautiful hunting country while at the same time taking in the rich history of the area and your lodging.  We invite you to come to Spain!