Alaska Luxury Fishing Lodge – Ketchikan
This Alaska luxury fishing lodge is accessible from Ketchikan in remote Southeast Alaska near Alaska's inside passage.   Exclusively sited near southeast Alaska's famous inside passage, this lodge was once home to a commercial seafood cannery. The cannery prospered because of its location, minutes from the best fishing spots in Southeast Alaska. Today, the artisan hand-crafted luxury fishing lodge is the only lodge on the unpopulated island open to guests.  The area is prime for salmon, halibut, ling cod, black bass and rock fish.
All-inclusive packages  feature guided saltwater Alaska saltwater sport fishing and professional seafood processing. Back at the lodge, you and your guests are treated to personalized cuisine with Alaska-inspired fine dining and a hosted open bar. The full service crew is available 24/7 for guests' every need.  Amenities such as an oversized fireplace, hot tub, outside firepit, hiking trails and kayaks entertain those that do not wish to spend an entire day on the water.  Due the proximity of the lodge to prime fishing spots, it is entirely possible to come back to the lodge for lunch or even spend the rest of your day in front of the fire looking out the giant picture window overlooking the inlet.  Whales have been known to wonder in front of the lodge for an entertaining spectacle.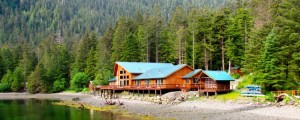 The Club accepts reservations for groups up to sixteen guests during the summer fishing season. The location's privacy makes it the perfect venue for both intimate gatherings of friends and family, and for "outside the box" corporate events.  Alaska sport fishing luxury lodges like this one are a rare find.
As with most of the best lodges in Alaska, this lodge books a year and two years in advance so please be sure to plan ahead.  However, as you can imaging the calendar does reshuffle occasionally and thus opening dates even at the last minute.
AGE APPROPRIATE: 10 yrs and older.  However any age may accompany parents with a lodge buyout!  This lodge offers a private residence just about 100 yards away from this lodge for those that wish to bring the entire family and enjoy a private lodge!  Please remember that there are no sitters are available.