Idaho Luxury Big Game Hunting
One of the many things Family Expeditions loves about this Idaho luxury big game hunting, wingshooting and fishing lodge is the people!  If everything is perfect about a trip but the people are not friendly and honest, you are not likely to return.  Your guides and hosts are men and women of integrity, strong work ethic, exceptional experience and fun loving.  You will feel at home from the moment you arrive from the friendly staff members to the antique built in cooler stocked with bottled water, soft drinks, beer, and a kitchen stocked full of hearty snacks available to you day or night at no additional cost to you.  Make yourself at home at this Idaho luxury big game hunting, wingshooting and fishing lodge.  We are sure you will want to return!
The perfect balance of exciting sporting activities combined with the freedom to relax and feel at home has been achieved at this lodge over its' 35 years in business.  Some guests have been returning for over 25 years, it's clear there is something truly special about these people and the experience you will enjoy.
5,000 private acres nestled in beautiful Lawyer's Creek Canyon boasting an abundance of wildlife, diverse landscape and majestic views of north central Idaho.  Along with their private lands, they also have exclusive outfitter rights to 740,000 acres of Special Permit Areas in the Nez Perce and Clearwater National Forests of North Central Idaho.
Wingshooting, wild wingshooting, fishing, mountain lion, black bear, mule deer, elk and merriam turkey are sure to entice any well rounded sportsperson. Truly North America's most versatile outdoor hunting and fishing lodge.  Take advantage of the luxury lodge for wingshooting or big game hunting or choose wilderness experiences via horseback, four wheel drive vehicles, snow mobiles, or four wheelers in fixed tented accommodations.  There are so many different experiences that you could return year after year and never have the same adventure twice.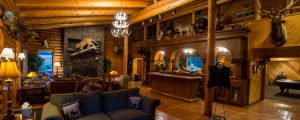 All the details of your trip will be meticulously arranged from the moment your flight lands until your trip draws to a close.  These are inclusive adventures with every expense disclosed and not surprises except for the great surprises of a home run trip from beginning to end.
This lodge sets the standard of family hunting experiences!  They love children and introducing them to the outdoors.  The family atmosphere and all around adventure will please the most discerning families looking for lifetime memories for their children.