Argentina Luxury Red Stag Hunt
This beautiful ranch consists of roughly 85,000 acres of prime habitat with an abundance of free-range red stag, blackbuck, water buffalo, wild boar, wild goats, wild rams and multi-horned ram. The red stag at this lodge have heavier antlers than those in other parts of the La Pampa region because they have access to grasses with higher protein as well as natural springs loaded with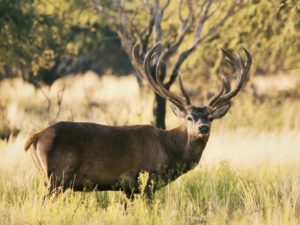 prime minerals that produce top quality trophies. The terrain is like parts of the Texas Hill Country with gentle rolling hills and brush cover.
There is also a 5,000 acre high-fenced area which has larger red stag, axis, fallow, mouflan, wild goats, wild rams and multi-horned ram.
The luxury lodge boasts a focus on exclusivity and authenticity. Your group will enjoy the 5 spacious bedrooms each with a beautiful view of the Argentinian countryside. The living spaces have open and comfortable seating so your group can relax and share stories after a great day of hunting. This is the Argentinian lodge you have been looking for where you will find the serenity of the great outdoors integrated into every aspect of the luxurious lodge.