This is it! The best New Zealand luxury touring lodge for private, bespoke touring! Few places in the world offer as many touring options as New Zealand, and even fewer offer the privacy and dedication of this lodge! Here your family will find luxury accommodations, bespoke activities, and incredible dining. Your guided tours will take you across the South Island as you discover the incredible culture and nature of this country.
Some of the incredible touring opportunities that your family will enjoy at this lodge include a guest favorite: Fiordland Hell Traverse, exploring the highest peak in New Zealand: Aoraki Mt.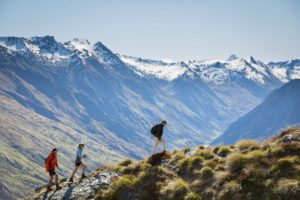 Cook, Hell Skiing, Mountain Biking, and cultural experiences such as visiting local farms. Your family will be transported to these activities, and many others, via helicopter. This mode of transportation gives you an incredible bonus to each excursion: breathtaking views of New Zealand's countryside as you go. Your time in New Zealand will be tailored to your desires so that everyone gets a once-in-a-lifetime experience!
Set in a valley in the Southern Alps is the luxurious, private lodge that your family will call home during your stay. The lodge has four well-appointed chalets each with its own hot tub, viewing deck, ensuite bathroom, and stunning views. In the main lodge, you will find a beautifully set dining room, two living rooms each with a fireplace, and the kitchen. While curled up with a coffee in front of the fire, lounging in your hot tub, or enjoying a delicious dinner, you will be able to look out over the valley and nearby mountains. The perfect view to inspire relaxation during your vacation.