An adventure awaits you in the heart of the La Pampa province! This rustic lodge provides you with an excellent hunting experience in an atmosphere created to foster comradery and memory making with your group and others.
With over 50,000 free-range acres and 5,000 high-fenced acres you can hunt for free range and high fence red stag, puma, water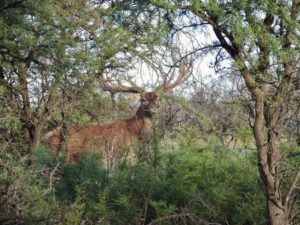 buffalo, fallow deer, feral goat, wild boar, blackbuck, four horn sheep, mouflon, and hybrid sheep amongst an incredibly diverse landscape made up of dunes, dense brush, and tree-spotted plains. It is not uncommon to chase after free-ranging stags ranging from 300-340 SCI points with much larger taken each year due to the extensive management program their biologist started years ago.
You will have every need met throughout your stay as you enjoy the large fireplaces, outdoor firepit area, comfortable seating, and pool table. The rooms are comfortable, spacious and well thought out. Each room has an ensuite bathroom. You can also spend some time in the spa room where there is an indoor jacuzzi, sauna, and workout bike. The kind staff will keep you well fed and ready to take on the day's adventure!
For those who want to take a break from hunting or are observers, this lodge has a few options for you. Enjoy non-hunting activities such as hiking, horseback riding, cooking classes, photo safaris, and experiencing the life and work of a gaucho.