Alaska Float Trip
Imagine seven days beyond all boundaries, this Alaska float trip includes fishing through 100 miles of exclusive Alaskan outback while you experience some of the finest fly fishing on this planet with some of the finest fly fishing guides on the planet. Using 16 foot rafts with custom frames and floor boards, a personal, licensed guide will take a maximum of 2 guests per boat.  You will be floating the famous Chosen River.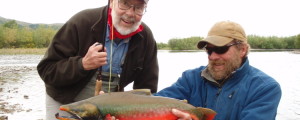 You will camp in peaceful solitude with superior accommodations each night on special selected gravel bar camp sites. Here, you will enjoy the finest of meals complete with freshly baked desserts and a prime selection of wine. You can even finish your evening with a soothing hot shower!
This outfitter is one of the select few outfitters permitted to operate float trips down the Chosen River within the Togiak National Wildlife Refuge. The tradition continues since 1983 offering the finest in Float Trips into the cream of Alaska's remote rivers. Test your skills in the land of the midnight sun.
Only a select few have gotten to experience the true wilds of Alaska. Each trip limited to six people, with 100 miles of winding river to fish over seven days – each day brings yet a bigger smile, clearer thought, a sense of wonder and a really tired arm. An avid fisherman's dream!!!  This will be a memory trip that you will never forget.

This Alaska float trip will be a memory that you will share for generations to come.  Your staff is the differentiating factor from all other experiences in Alaska!  You will find that before your float trip ends, you will be trying to figure out how to return.
Only 6 guests per week!