South Dakota Luxury Pheasant Hunt – Gettysburg
Since 1993, this South Dakota luxury pheasant hunting lodge's goal has been to exceed your expectations…exceeded. Welcome to a place where pheasants abound, camaraderie flows, and one mouth-watering meal after another is served and savored.  The thrill of the hunt and a deep appreciation for the executives, family and friends with whom you share it are just the beginning to your stay.
They serve those who seek the finest South Dakota pheasant hunting retreat.  If exceeding your clients expectations for entertainment is your goal, this is the experience you have been searching for.  World-class pheasant hunting, executive suites with king beds and private baths for every guest, and a private environment for your party to enjoy themselves are just a few of the exclusive touches you can expect.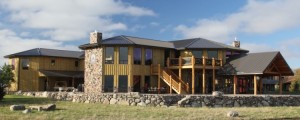 A bespoke destination commonly associated with the finest hunting in the world.  Personal service, family owned and operated combined with luxury and an exceptional staff make this among the best bird hunting destinations in the United States and around the globe.
The high return (98%) of previous guests calls for early bookings in order to find an openings at this lodge.  A year in advance is not uncommon to call especially if you are concerned about selecting a specific date for your group.
A state of art long range shooting facility was added in 2018!