Hardcore anglers only at this Northwest Territories fishing lodge! This lodge currently holds world records for the largest lake trout, arctic char, and arctic grayling. During the past 60+ years, this outfitter has provided its guests with unbelievable Northwest Territories fishing in Canada. Their four lodges set on Great Bear Lake and Great Slave Lake, as well as Tree River, will please every guest looking for an adventurous fishing trip.
Each of the four lodges provides world-class fishing that is sure to amaze. Each day you will go out with your knowledgeable guides, and every evening you will gather at the rustic lodge you are staying at to recount the day's successes!
The first lodge is located on Great Bear Lake. Here you will be provided with rare access to some of the best lake trout, arctic grayling, and pike fishing in the world. Only a lucky 300 anglers fish in this area per year. As you explore the area, do not be surprised to find caribou, moose, grizzly bears, muskox, or century-old teepees. This is the only lodge of the four that always has two turbine Otters at the lodge. This allows guests to participate in fly-outs to renowned waters for arctic char fishing.
The second lodge, the "Trophy Lodge" is also set on Great Bear Lake and has earned its name.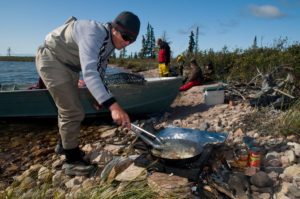 While staying at this lodge you will fish for 5-star lake trout, 4-star arctic grayling, 4-star northern pike (this is the best area for it on the lake), trophy grayling, and lake trout. A very lucky few will be able to grab a spot at this lodge as it has a short opening span and a very long list of anglers anxious to experience its world-renowned fishing.
Great Slave Lake is home to the third lodge. This lodge sits on the Taltheilei Narrows which have been praised through the generations by the local people. The Narrows is known for trophy lake trout (up to 60lbs!), arctic grayling, and northern pike. Your skills and strength will be tested as you reel in the monsters lurking in the lake! A reason guests love this lodge is that there is excellent fishing within view of the lodge, and you may even catch some fish by wading along the shore of the lodge.
Last, but certainly not least, is an exciting excursion opportunity to the fourth lodge set on the Tree River. This overnight stay is incredibly popular with guests. The river's incredible fishing for arctic char has been praised year after year. Here you will find the best fly-out opportunities of any of the lodges. As you fly over the tundra you will be left speechless by its vastness and beauty. There are also options to explore this area on foot by hiking to nearby pools.