Arkansas Duck Hunt – Stuttgart
This Arkansas duck hunt gives you location, location, location, great people and duck hunting at its best!  Duck hunting enthusiast know Stuttgart as the duck capital of the United States.  Openings at this lodge are rare because of a huge repeat clientele!  That being said, openings do occur as well as cancellations so don't let that stop you from asking for dates.
Many Family Expeditions families love this lodge because of the family duck hunting atmosphere and the number of kids at the lodge during the holidays.  This is a perfect lodge to introduce your spouse or children to duck hunting in a prime area with prime access in the area.  If you are looking for a father/child trip over the holidays, this is a perfect fit as well.  You will want to book a up to a year ahead to find an opening as this lodge has so many repeat clients.  Openings can be rare but they do occur.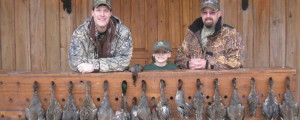 Every year, millions of waterfowl migrate down the famous Mississippi flyway on their journey south. This lodge is located in the very heart of the Mississippi flyway between the Arkansas and White Rivers just 30 miles south of Stuttgart. This family owned and operated lodge offers you the most spectacular, heart-pounding hunting experience available in the lower 48.
Four keys to success at this Arkansas duck hunt:
 Large acreage access makes for more hunting options and better opportunity for locating birds
Arrangements with the private landowner/farmers in the area who are scouting daily throughout the season.
Lodge has personal scouts out looking at properties and selecting the best options available for the next days hunts!
LOCATION, LOCATION, LOCATION