Argentina Luxury Dove Hunt
The ultimate South America luxury lodge. This lodge sets the standard for your Argentina luxury dove hunt. It is the lodge by which all other lodges in Argentina are measured.
This lodge is owned and operated by two brothers. They have spent the past 17 years developing a reputation for spectacular accommodations and customer service. They own many of their dove areas thus they can control the hunting pressure to ensure plenty of birds for your group! Because of this, they have created the finest dove shooting experiences in Argentina.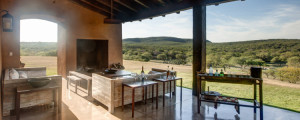 Cordoba Province is set in the heart of Argentina. The mild climate, extensive agriculture, and perfect roosting conditions produce an ever-increasing population of doves. These attributes of the area create the best dove hunting in the world.
This Argentina luxury dove hunting outfitter owns and controls over 20,000 acres of the best land in Argentina. This property is located in the heart of the prime roosting areas of Argentina. Typically the roosting grounds are heavily wooded areas with native trees and crossed by natural streams. These produce an ideal habitat for the reproduction of doves.
Surrounding these refuges are valleys furnished with large amounts of grain, providing a consistent source of food for doves. In addition, crops are planted on their land exclusively for dove. They use no till methods, which provide unlimited amounts of food for the birds. By practicing game management techniques, this operation has been able to provide a one-of-a-kind experience. They are the only outfitters in the area that offer excellent shooting throughout the whole year.
The observers in the group, or those who decide to take a day off, will enjoy horseback riding, hiking, polo matches and lessons, wine tours, spa treatments and more. Everyone in your group will be catered to by this exceptional staff.
We recommend booking your trip early with this lodge due to the fact that they have a very high number of returning clientele.