Idaho Back Country Fishing
Your back country fishing adventure begins at the main lodge sits on a 5,000 acre ranch.  This ranch is nestled in beautiful Lawyer's Creek Canyon boasting an abundance of wildlife and majestic views of north central Idaho. This diverse and dramatic back country fishing landscape is unlike any other you have seen, an ideal place to make memories.  Guest spend the first night here and then head out for Idaho back country fishing on Osprey Creek.
These native cutthroat are pursued from our pristine back country camp, Osprey Creek. The fishing is all wet-wade and fish numbers are high.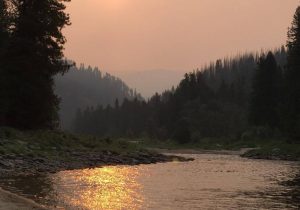 These 4 day/ 5 night trips start at our luxurious lodge for your first night. The next day enjoy the mountain drive to the trailhead where the horses and mules will be waiting. The pack-in is a short 5 miles through huge old growth cedar trees and follows the creek the entire way to camp. The next 3 nights are at our comfortable back country camp. To finish the trip your pack-out day and last night brings you back to the lodge. Whether you are looking for a trip for family, friends, or business, Osprey will accommodate all.
This select lodge is perfect for the well rounded outdoorsman that wants it all in one location. The ranch lies just outside Kamiah, ID with exclusive outfitter rights to 740,000 acres of Special Permit Areas in the Nez Perce and Clearwater National Forests of North Central Idaho.
Every detail of your trip will be arranged for you from the moment your flight arrives until your trip draws to a close. We pride ourselves on offering inclusive adventures, always upfront on pricing, so that only good surprises await you from start to finish.
We are fortunate to offer trips for the cutthroat trout. It is in fact Idaho's state fish!