Idaho Back Country Fishing
The main lodge sits on a 5,000 acre ranch is nestled in beautiful Lawyer's Creek Canyon boasting an abundance of wildlife and majestic views of north central Idaho. This diverse and dramatic landscape is unlike any other you have seen, an ideal place to make memories.  Guest spend the first night here and then head out for Idaho back country fishing on Osprey Creek.
This select lodge is perfect for the well rounded outdoorsman that wants it all in one location. The ranch lies just outside Kamiah, ID with exclusive outfitter rights to 740,000 acres of Special Permit Areas in the Nez Perce and Clearwater National Forests of North Central Idaho.
Every detail of your trip will be arranged for you from the moment your flight arrives until your trip draws to a close. We pride ourselves on offering inclusive adventures, always upfront on pricing, so that only good surprises await you from start to finish.
We are fortunate to offer trips for the cutthroat trout. It is in fact Idaho's state fish!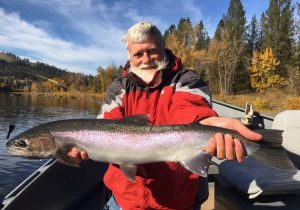 These native cutthroat are pursued from our pristine back country camp, Osprey Creek. The fishing is all wet-wade and fish numbers are high.
These 4 day/ 5 night trips start at our luxurious lodge for your first night. The next day enjoy the mountain drive to the trailhead where the horses and mules will be waiting. The pack-in is a short 5 miles through huge old growth cedar trees and follows the creek the entire way to camp. The next 3 nights are at our comfortable back country camp. To finish the trip your pack-out day and last night brings you back to the lodge. Whether you are looking for a trip for family, friends, or business, Osprey will accommodate all.
Fishing
Back Country Fly Fishing – Cutthroat Trout Fishing Experience:
An Orvis Endorsed fishing destination, the rustic accommodations, is home to some of the best fishing water.  The fishing guides have years of wisdom on the water utilizing both fly-fishing and spin-tackle equipment as your tools. The team will cater to your skill level and give you an experience that will make you realize fishing is not just a hobby; it's a passion!
The scenery of Osprey Creek country is a delight all its own. After a short horseback ride into our deluxe backcountry campsite, you'll cast your fly into native Westslope Cutthroat and Rainbow trout in one of the most productive streams in the West.
Osprey Camp is outfitted with large wall tents with wood floors, running water at all tents, hot showers, comfortable sleeping, and quality cuisine. Past guests rave about the upscale accommodations in such a beautiful setting.
Osprey Creek, twenty-seven miles of unspoiled catch-and-release fishing water, is a favorite for the avid fly-fisherman. Guides are skillful instructors who will have you catching fish shortly after your arrival to camp. The beauty of Osprey Creek is truly something that has to be experienced firsthand.
You will find that not only is the fishing superb in Osprey Creek, so is the dining!  Our lodge chef travel back into camp to prepare gourmet dutch oven meals along with many fire barbeque favorites.  There are limited trips throughout the months of July and August, so reserve your spot early!
Steelhead fishing is conducted from October through Early March. Depending on the time of your fishing excursion; they have spin tackle, traditional fly rod and spey rod equipment to hook onto that big one.  Drift boats and Jet boats have allowed them to reach more fishable river water and enhanced opportunity. They have made sure that regardless of what mother nature dishes out, they will give you the best opportunites to hook into that world renowned Clearwater River Steelhead.  With fish weighing over 20lbs, you will find this to be a rewarding sport to land such an aggressive and large fish. River fishing does not get any better than this!
lodge is home to some of the best fishing water in North America; paired with rustic elegant lodging. The fishing guides have years of wisdom on the water utilizing both fly-fishing and spin-tackle equipment as your tools. The team will cater to your skill level and give you an experience that will make you realize fishing is not just a hobby; it's a passion!
Or other Lodge based fishing:
Steelhead (Rainbow trout that goes to the ocean)
They offer Steelhead and Salmon fishing adventures from our Orvis Endorsed fishing lodge from October 1st through March 15th. Fishing the Clearwater River, a nationally recognized fishery, and we have access to over seventy miles of this pristine water.
A typical day starts out with a hearty breakfast at the lodge followed by just a short drive to one of many boat launches. Once on the water, guides will drift or power you into the best fishing holes the Clearwater River has to offer. Once a fish is hooked, the adrenalin starts pumping!
Salmon
They offer spring Salmon fishing adventures from the Orvis Endorsed fishing lodge during the months of May and June. Fishing is at its best during the morning hours, so this trip is very popular to do in conjunction with a bear or turkey hunt from our lodge. For a diversified sporting trip, enjoy fishing in the morning and afternoon hunting for black bear.
Salmon can range from 15-30 lbs with varied bag limits depending on the predicted fish run. These amazing fish travel over 500 river miles to spawn and are a delicacy to put on the dinner table!
At your option, the culinary experts will take your catch and prepare it for you at dinner.
Activities
What else is there to do at this destination?
  Whitewater rafting http://www.threeriversrafting.com/ Full day activity.
  River float trips available in late June, July and August. Full day activity.
  Whitewater jet boat tours on the Snake River yeararound http://killgoreadventures.com/ Full day activity. Boats are enclosed.
  Take a full day Lewis & Clark tour with renowned PHD. Very interesting
  Horseback riding: considered half day; see pricing below
  Sporting clays/ 10 station; see pricing below
  Jeep tours: considered half day; see pricing below
  Take in a sauna or soak in the Jacuzzi – included
  Book a massage with their full time masseuse after dinner: $80/ hour
Basic rates for activities unless stated differently above are $300 per person which will include the activity costs and transportation. Any kids paying 1⁄2 price for their trip would pay $150 per activity.
Trip Insurance & Cancellation Info
Trip insurance is highly recommended to protect your investment on this trip. We will assist you with trip insurance upon booking. See links at the bottom of this page for the two providers we suggest for our clients.
Family Expeditions, LLC confirmation and refund policy:
If your trip is more than 90 days out from date of departure, a 50% non-refundable deposit confirms your reservation and must be received within 10 days of booking to confirm your dates. All trips must be paid in full at least 90 days prior to the departure date. If your trip date is within 90 days, FULL payment for the trip is required. All payments to Family Expeditions are non-refundable. Should you need to reschedule or cancel your trip, we will do everything in our power to assist you in finding a suitable substitute or transferring your dates per the lodge/providers/government requirements. Trip insurance protects your investment!