Bonefishing Lodge – Andros
Location, location, location! This Bahamas bonefishing lodge located on the middle bight of Andros Island  is in the heart of bonefishing mecca. Andros Island is the bonefish capital of the world. It offers great guides, perfect location, professional hands on management, comfortable very nice accommodations and excellent food. Other lodges may offer two or three of these items but rarely do you find all five of these in a Bahamas bonefishing lodge!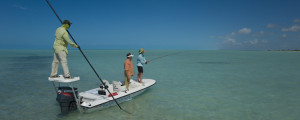 This saltwater fly fishing lodge is located smack in the middle of the Andros fishery, the largest area of bonefish habitat in the world. They have guides capable of coaching beginning saltwater anglers or hunting trophy bonefish with experienced fly fishers. Their desire is that beginning saltwater anglers be as much at home there as more experienced anglers.
Enjoy the comfort of one of the most comfortable, hospitable lodges in the world. Your guides will be capable of coaching beginning saltwater anglers or hunting trophy bonefish with experienced fly fishers. They are full-time professional guides who will make sure your days on the water are fun, safe, and educational. Combine our guides, our fishing, our meals, and our accommodations, and there is no better place to fish in the Bahamas.
A few activities are available for those that do not wish to fish such as a lovely pool waterside, night shark fishing, biking and island exploring.
A fun new addition is custom paddle board fishing!
An interesting tidbit:
Many individuals take their small boats out for a day of diving and fishing, either for their own consumption or for a catch to be sold. They frequently stop at our dock on their way back into shore and we select our fresh fish, conch and lobster for dinner. We also buy local produce whenever possible.
In addition to the ocean, the island of Mangrove Cay is home to a vast network of caves, exceptional fresh water, and very picturesque churches. The lodge has bicycles on-site, and it is a wonderful island to explore by bicycle at the end of your fishing day.
Living on an island tends to shape people's character and in addition to being polite and friendly, they are resourceful, independent and resilient, all of which are desirable attributes for guides. All of our guides are local men that have been fishing, diving and sponging most of their lives on the same waters that they now guide for bonefish. We never had to teach a guide how to see a bonefish or how to find his way through the Bights.