Alaska Luxury Fly-Out Fishing Lodge
This well established luxury fly-out fishing lodge is easily considered to be the finest Alaska fly out fishing lodge with daily float plane fly out fishing to remote areas. Located in the heart of the Bristol Bay region of southwest Alaska, they are within easy flying distance to the finest waters in the state. Depending on the week they target five species of Pacific Salmon, Rainbow Trout, Arctic Char, Dolly Varden, Arctic Grayling, Lake Trout and Northern Pike and most any combination thereof.
Why do we love this Alaska luxury fly-out Fishing Lodge so much?  Besides the amazing fishing, it is the people that make this the Alaska fishing experience you will want to enjoy year after year.  It is not uncommon to sit across the table with clients that have been coming to this lodge for three decades!  It is your turn to make this your annual fishing experience.
Beside exceptional service and people, unique to this lodge is there offering of Lake Hop fishing!  An exciting and adventurous day of landing on remote sometimes unfished lakes.  Your group, guide and your pilot will land on a remote gorgeous lake where you will try your hand.  Enjoy the exhilaration as the fish begin to bite with aggression as they have not been exposed at all or sometimes seldom to the sight of the fly or lure.  Stay until they decide they are interested no more and take off to land on the next lake and so on for the entire day!  It doesn't get any better than this.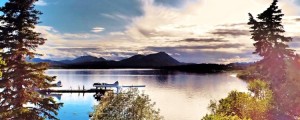 In June fly out to the Nushagak River for the famed King Salmon run.  In July enjoy the variety of salmon and other species on numerous rivers.  August and September present the Silver Salmon run and big fat healthy Rainbow Trout.  Each day experience a new exciting fishing opportunity.
If you and your group are interested in a first class luxury Alaska fly fishing lodge experience, without comprising great fishing to find luxury, this may well be your kind of place.
They are committed to providing the best service possible with the ultimate goal being to have fun while catching lots of fish!
For the family that loves to fish but also wants to enjoy other activities, this lodge will cater to your family with bear viewing, float plane flight seeing, masseuse and amazing fishing from right in front of the lodge!