South Africa Luxury Hunting Safari – Eastern Cape
Three diverse properties totaling well over 200,000 acres, five South Africa luxury hunting safari lodges and exclusive use and fantastic hunting sums up this safari company.  Each lodge is unique in it's own way but all are luxury lodges and your group will enjoy each lodge exclusively.  This means that you will be the only guests at the lodge whether your group is made up of one person traveling alone or a group of 12!
Move from property to property or settle in at one for the duration of your safari. The properties are each different:  Try a taste of each or settle in at one location, it is your choice!
The karoo experience is 150,000 contiguous acres with no internal fences.  The largest private properties in South Africa.  The land is comprised of gently rolling hills, rivers, open areas to thick bush.
The 10,000 acre coastal property is lush filled with beach vegetation and vistas.  Choose from a luxury private beach house, the home lodge, or a luxury spa resort overlooking the beach.
Finally, the 40,000 acre mountain property offers the largest man made lake in South Africa and gorgeous plateaus.  In a 10 day safari, you can enjoy quite a diverse selection of terrain and an amazing selection of plains game animals plus rhino and cape buffalo!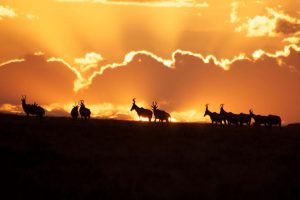 Click on this video to see some recent footage of game from the various properties:  Best of Eastern Cape Animals
VIP hosting and video services available for this exceptional experience.
When we design your African safari you can expect the following:  We will listen as you share your vision of what your African Safari Experience should look like.  We then begin designing your safari with lodge and destination selection, activities selection, flights, meet & greet services, travel insurance, clothing & equipment list, countdown to Africa (this assist you with detail preparation leading up to trip time), detailed pricing with all included/not included items, and more.
As a full service African Safari specialists, we have visited over 90+ safari lodges in Africa over the last 30 years.  We selected only a handful of those for you that have met our strenuous criteria.  Combination big game hunting, bird hunting, photo safari, Cape Town and Victoria Falls safaris are our specialty.
As with all of our African properties, private aircraft are available for transfers if you prefer.