South Africa Luxury Hunting Safari – Eastern Cape
This destination has three fantastic and diverse hunting properties which total over 200,000 acres. It boasts five unique South Africa luxury hunting safari lodges which your group will enjoy exclusively. Which means your party of 12 or less will be the only guests at the lodge. You have the option of staying at one of these luxury South African hunting lodges throughout your safari or moving from property to property.
Three Experiences
The Karoo experience is the first of the three South Africa luxury hunting safari lodge properties. It consists of 150,000 acres with no internal fences. This is one of the largest private properties in South Africa. The terrain consists of rolling hills and rivers, as well as dense brush and open savannas. It hosts two lodges, the main and a more intimate lodge. The main lodge has 16 en-suite bedroom while the smaller lodge has 4.
Second is the Coastal property. This 10,000 acre luxury safari property has beautiful beach vegetation and vistas. You have the option of a luxury private beach house, the home lodge, or the luxury spa resort which overlooks the beach. The incredible views from your window will only be topped by relaxing spa treatments, horseback rides along the beach, and fantastic shopping.
The last of the luxury South African hunting lodges is the 40,000 acre mountain property. This stunning property contains many mountains and plateaus. Here you will see the largest man-made lake in South Africa, and experience the history of the area in an amazing way: bushman paintings dating back to 1,500 years ago. During a 10-day safari, you will see a diverse selection of plains game as well as Rhino and Cape Buffalo.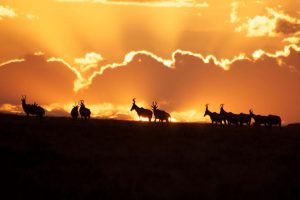 Our Planning Process
When we design your South Africa luxury hunting safari we listen to your vision for your safari experience. We will then begin to design your safari with lodge and destination selection. Then we plan your activities, flights, meet and greet services, travel insurance, clothing and equipment lists, countdown to Africa (this assists you with detailed preparation tips leading up to trip time), detailed pricing with all included/not included items, and more.
As a full service African safari specialists, we have visited over 90+ safari lodges in Africa over the last 30 years. We selected only the handful which have met our strenuous criteria. Creating combination big game hunting, bird hunting, photo safari, Cape Town and Victoria Falls safaris is our specialty.
As with all of our African properties, private aircraft are available for transfers if you prefer. VIP hosting and video services are available for this exceptional experience.