South Africa Luxury Hunting Safari – South Central
This family owned and operated safari outfitter has three fantastic and diverse hunting properties totaling over 200,000 acres. It boasts five unique South Africa luxury hunting safari lodges which your group will enjoy exclusively. Meaning your party of 12 or less (even a single hunter) will be the only guests at the lodge.
Depending on the length of your safari, you will enjoy 2 – 3 completely different landscapes and luxury lodges as your professional hunter (hunting guide) drives your group between properties during your stay.
Three Experiences
Karoo:  The Karoo experience is the first of the three South Africa luxury hunting safari lodge properties. It consists of 150,000 acres with no internal fences. This is one of the largest privately owned properties in South Africa.
The terrain consists of rolling hills, mountains, and rivers, as well as dense brush and open savannas. It boasts two lodges, the main lodge and a more intimate lodge for small groups.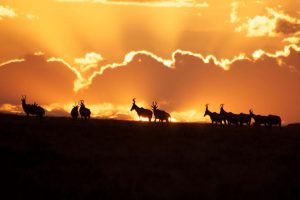 Here you can hunt plains game and Cape Buffalo, and will most likely see their Rhinos which freely roam the property.
Coast:  The second is the Coastal property. This 10,000+ acre luxury safari property has beautiful beach vegetation and vistas. You will bask in the beauty of the luxury beach house set on a hill with incredible beach front views. Your views will only be topped by relaxing spa treatments, horseback rides along the beach, and fantastic shopping.
This hunting property has a lot of game but the dense brush hides them well until you suddenly open onto a savannah where the game enjoys the lush green grasses. Your hunt will have you watching herds of animals with stunning views of the Indian Ocean as the backdrop.
Mountains:  The last of the luxury South African hunting lodges is the 40,000-acre Mountain property. This stunning land contains many mountains and plateaus with an excellent road system throughout. During a 10-day safari, the mountains will always be included.
You will see a diverse selection of plains game as well as Cape Buffalo. Your lodging options include their brand new, beautiful four-bedroom lodge or two luxury chateaus.
Here you will see the largest man-made lake in South Africa, and experience the history of the area in an amazing way: bushman paintings dating back to 1,500 years ago.
Our Planning Process
When we design your South Africa luxury hunting safari, we listen to your vision of your safari experience. We will then begin to design your safari by selecting the best lodges and destinations that match your dream. Then we coordinate your activities, flights, VIP meet and greet services, travel insurance, clothing and equipment lists, a countdown to Africa (this assists you with detailed preparation tips leading up to trip time), detailed pricing with all included/not included items, and more.
As full-service African safari specialists, we have visited over 100+ safari lodges in Africa over the last 35+ years. We selected only a handful which have met our strenuous criteria. Creating combination big game hunting, bird hunting, game viewing safaris for the big 5, Cape Town, and Victoria Falls safaris is our specialty.
As with all of our African properties, private aircraft are available for transfers if you prefer. VIP hosting and video services are available for this exceptional experience.
Accommodations & Meals
Click on this link for a video of the various luxury lodges available on the three properties.  Each lodge is exclusive use for your group:  Best of Eastern Cape lodges
Coastal Lodge:
Magnificent beach front ocean views are one of the most noteworthy features of this stunning ranch, located on the Puti River between Port Alfred and East London. The pristine coastal environment makes a memorable setting for sunsets or horse rides along the beach; the perfect end to a great day's hunting. Expect well-appointed accommodations complete with en-suite bathrooms and fireplaces, underfloor heating, and fresh seafood and gourmet country cooking. This is the beach house you want: luxurious but feels just like home. Wi-Fi is available.
Your gourmet prepared meals will consist of classic South African dishes, vegetables, salads and soups.
Karoo Camp Lodges:
This is one of the largest privately-owned single-unit properties in South Africa. Here you have the option of two luxurious, 5-star camps: the main camp which can host up to 16 people, or the smaller lodge which can host up to 4 people. Either would be private for your group.
The main camp has a workout facility (including treadmills, exercise bikes, free weights, benches, and a variety of other training machines), pool, boma, 16 beautiful en-suite bedrooms with underfloor heating, a dining area, bar, and firepit. It is not unusual to have animals roam through camp.
The smaller camp has 3 en-suite bedrooms, a detached chalet with a kitchenette, a living room, a dining area, and a spectacular view of the Vanderkloof dam. This lodge has a more intimate feeling with the majority of the living and lounge areas under the same roof.
At both camps, the friendly well-trained staff has a reputation for service excellence and will ensure that your every need is catered to.
Mountain Lodge:  
This family-owned land has been in the family for 5 generations. The new luxury lodge is set at the base of the beautiful hills.  Your group can select between two luxury chalets and a brand new, 4-bedroom lodge.
While it is beautiful, you always know you can put your feet up and relax. This lodge has an open floor plan with the stocked kitchen, dining room, and living room all in the same area. Evenings at the boma are a staple and always a highlight of the safari.
For larger groups, the owners house located only steps from the lodge may also house some guests.
Your meals will consist of classic South African dishes, vegetables, salads and soups.
Taste of Africa!
Dining at these lodges is an authentic culinary experience. Dining area options are different at each lodge but can include an outdoor boma with a fully stocked bar, African-inspired lapa, deck over the Seacow River or the owner's home with a cozy dining room and prominent fireplaces.
Meals include free-range steak, some of the best Karoo lamb, fresh locally produced vegetables, game hunted on safari, and a wide range of traditional, hearty South Africa meals.
Fishing
The mountain property boasts the largest man made lake in South Africa! They have caught fish as large as 13 pounds in this lake! Fly and spin fishing available from the bank. Amazing Rainbow trout fishing available.
Deep sea fishing can also be arranged from the beach property.
Hunting
Your tailor-made South Africa luxury hunting safari is built to cater to your hunting desires and needs. All hunting is spot and stalk in an ethical, traditional African hunting style.
What does "spot and stalk" mean? When the trophy you wish to hunt is spotted from a mountainside, vehicle, or on a hike, a plan is made between you and your PH (Professional Hunter) to stalk the trophy. The goal is to be within 150-200 yds of the animal. Rarely will animals be shot from the truck unless a client is unable to walk.
Should you have any disabilities that need to be catered to, it is absolutely a priority, and plans will be made. This outfitter is dedicated to ethical hunting and catering to the specific needs and desires of every client. No safari is just alike!
As you noticed in the introduction, they offer 3 lodges on three different properties. Each is exclusive to the group in camp. The properties are large (150,000, 40,000, and 10,000 acres) and do not have interior fences. The game range freely on each property.
Excellent trophy animals are on each property. 40+ indigenous trophy species plus cape buffalo and rhino are available on the properties.
Trophy species found in these areas:
Baboon
Barbary Sheep
Bat Eared Fox
Blesbuck
Blesbuck, Silver
Blesbuck, White,
Blesbuck, Yellow
Bontebok
Bushbuck, Cape
Bushpig
Cape Buffalo
Duiker, Grey
Duiker, Blue
Eland
Fallow Deer
Fallow Deer, White
Gemsbuck
Gemsbuck, Golden
Giraffe
Hyrax
Impala
Impala, Black
Jackal
Klipspringer
Kudu, Cape
Kudu, Greater
Lynx (caracal)
Moufflon
Nyala
Ostrich
Porcupine
Red Hartebeest
Red Lechwe
Reedbuck, Mountain
Rhino, White
Roan Antelope
Sable
Spotted Genet
Springbuck, Black
Springbuck, Common
Springbuck, Copper
Springbuck, White
Springhare
Steenbuck
Tahr
Vaal Rhebuck
Vervet Monkey
Warthog
Waterbuck
Wildcat, African
Wildebeest, Black
Wildebeest, Blue
Wildebeest, Golden
Zebra, Burchells
Zebra, Mountain
View this video to see some of the game on these properties:  Best of Eastern Cape Animals
Activities
#1: Karoo Camp Activities:
Game drives
Sundowners
Bush meals
Hiking with guide
Spa Treatments – massages, pedicures, and manicures (for own account)
Fully equipped gym
Wine tasting. Cost: P.O.R. – at the lodge –
Photography course: P.O.R – published photography
Swimming pool
View ancient rock art
Kayaking
Paddleboarding
E-bikes
Bushman art
Clay shooting
Possible dove hunting as an activity
Horseback riding (12 years and older and must have some riding experience)
 #2: Mountain Camp Activities: 
View ancient rock art – swim in the lake
Visit the school supported and founded outfitter – ithemba4hope.org usually en route
Visit the town of Tarkastaad and the local, quaint coffee shop: The Story
Photo safari game drives on the property
Join in with everyday life like rugby games and other sports as available
Visit Thobelani Crafts store (local crafts made by local people – including pit fired clay items)
Hiking with guide
Fishing in the largest privately-owned trophy rainbow trout lake
Bird Hunting for Francolin, guinea, dove, and duck. 12 and 20 ga shotguns are available. May through August. Can have dogs brought in for an additional expense of about $150 per day. The South Africa field trials are held on this property.
#3: Coastal Camp Activities:
River cruises and sundowners with the possibility of seeing some animals. Cost: P.O.R. – ask about various options
Beach walks
Game drives
Canoeing on the river
Hiking with a guide – various levels depending on your fitness level
Horse riding on the beach. Cost: P.O.R. (10 years and older)
Rock and Surf Fishing. Cost: P.O.R. – ask about options (Guide available with advance notice)
Deep-sea fishing. From half-day to full-day trips – Deep sea* fish species: Cob, Geelbek, Red Roman, Soldier, Mussel Cracker. This must be booked before your safari.
Shopping in Port Alfred
Visit South Seas Mohair and Craft Shop
Spa (massages, pedicures) – cost for own account
Enjoy a seafood dinner at a local restaurant on the beach
Plunge pool
Golf at two nearby golf courses
Custom tours are available.
Video your trip:
Videographer services are available for this trip for an additional fee. Please let us know if you are interested in this service.
Length of Stay / Itinerary
Each itinerary is customized for your interests
Travel Details & Location
There are several options for travel, all beginning with your arrival in Johannesburg.
Option 1: We have charter planes that can take you directly to the properties with private landing strips on the properties.
Option 2: Fly from Johannesburg to either Port Elizabeth or Bloemfontein where you will be greeted by your lodge host and transfer by road to the hunting property which will be a 2 – 3 hour scenic drive.
Internet & Communications
Wifi and cell services are available.
Changing Generations
Should you be interested, there are amazing opportunities to give back to the surrounding community. Visit and aid the local private school for underprivileged and privileged children in the area which was started by this outfitter and his family several years ago. This school includes both sponsored and privileged children who are taught by local members of the community. This is a fantastic opportunity to give back and and experience the amazing community while on safari. Whether you visit for a few hours or participate in their schooling for a few days, be prepared: you may think you are going to help them but you may just find that you are the one that is changed forever!
Rates
2022 Rates:
Trophy Hunting One on One: $590 per night per hunter 
Trophy Hunting Two on One: $500 per night per hunter
Observers: $290 per night per observer
Helicopter Transfers available between camps (P.O.R.) 
VIP HOSTING SERVICES:
Each year the owners of Family Expeditions, Corinna and Kevin Slaughter, offer their expertise as hosts for clients that wish to be accompanied on their international adventure. As you depart for your adventure, you will be able to relax as they will tend to all the details along the way! As you can imagine, they only host a few select trips each year as their schedule allows. If you wish to inquire about this great opportunity, please ask upon booking your outdoor vacation. Additional fees will be incurred for this VIP service.
VIDEO SERVICES:
We have a few select experienced videographers available for trips to Africa. They are located in the region for easy access to the properties. Please inquire about the benefits and expenses of enjoying a professional video of your experience.
Trip Insurance & Cancellation Info
Trip insurance is highly recommended to protect your investment on this trip. We will assist you with trip insurance upon booking. See links at the bottom of this page for the two providers we suggest for our clients.
Family Expeditions, LLC confirmation and refund policy:
If your trip is more than 90 days out from date of departure, a 50% non-refundable deposit will confirm your reservation and must be received within 10 days of booking to confirm your dates. All trips must be paid in full at least 90 days prior to the departure date. If your trip date is within 90 days, FULL payment for the trip is required. All payments to Family Expeditions are non-refundable. Should you need to reschedule or cancel your trip, we will do everything in our power to assist you in finding a suitable substitute or transferring your dates per the lodge/providers/government requirements. Trip insurance protects your investment!