Newfoundland Fishing Lodge
Your Newfoundland fishing lodge is located at the heart of where nature, history and culture connect, it's your home away from home.  Your owner/operated hostess is passionate about the area and ensuring that you feel at home.
The lodge owner takes pride in introducing you to our region….historic fishing villages, world-famous cultural attractions and many natural wonders. Coastal waters are home to numerous species of whales, an annual parade of 10,000-year-old icebergs and millions of seabirds. This area is renowned for its abundant populations of moose, caribou and black bear, as well as rivers that teem with Atlantic Salmon and trout.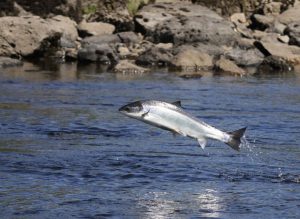 Rustic luxury accommodations
We are pleased to offer lovely rustic, Scandinavian style accommodations in the heart of the Newfoundland wilderness, coupled with some of the highest quality outdoor experiences in Atlantic Canada.
The people at this lodge put a lot of effort to awaken a person's interest in the whole of nature and wildlife in perfect harmony with fly fishing. It is the experience of all that surrounds you and everything that transpires in that environment.
There are numerous activities in the area to enjoy for those that do not wish to fish or would enjoy a combination of activities.
If you would like to combine some fishing along with some great hunting then take a look here:  Newfoundland caribou hunting and moose hunting lodge