Alaska Adventure Fishing Lodge – Sitka
The top small all-around Alaska adventure fishing lodge for saltwater and freshwater fishing!  You will never forget this lodge and the people here.  We love it here!  If you want variety and the experience of Alaska at it's best, this is the lodge for you!  Enjoy the veteran staff, pulling up crab pots, kayaking, hiking, whale watching, fishing and lots of fresh seafood.  This remote lodge is nestled 20 air miles east of Sitka. A short, spectacular float plane ride from Juneau delivers you directly to the floating lodge side dock.
The people, facilities, activities and the fishing are fantastic.  Each evening pick your adventure for the next day from the "FUN BOARD".  You might enjoy halibut fishing one day, stream fishing the next, island exploring and whale watching the next and on and on.  The staff caters to your desires each day.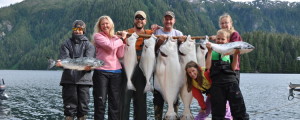 Alaska Adventure vacation where memories are made for a lifetime.  One client told the owner, "This has been the best day of my life next to the birth of my children!" Tiffany, from Alabama.  Her family of six is about to embark on their third trip to this lodge and they travel the world on an annual basis.