Africa Walking Safari
Explore Africa on foot!  An Africa walking safari in Hwange National Park or in Zambia offers some of the most amazing game viewing on the planet.  During your safari, you will spend a lot of time on the ground in search of elephants, plains game, lions and even the elusive leopard.  In the evenings, following a lovely day on safari you will stay in the luxury of tented camps or mobile camps.  Each itinerary is customized for your personal interests.
Imagine, walking through the savannah and seeing elephants at the waterhole or a leopard hiding in a tree or even a pride of lions while you are on foot!  Talk about an adrenaline rush and stories to tell for generations.
Fly Camps:  Some guests will choose fly camps with domed tents large enough to stand up but without bathroom facilities attached.  Pop up bathrooms are built on sight for guests.  A team is dispensed ahead of you to set up camp each evening so that on arrival your fire is waiting and sundownders (drinks with appetizers) to your liking being prepared.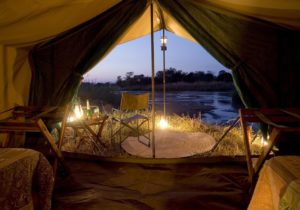 Permanent luxury tented camps:  If you prefer to enjoy some of the luxuries of safari combined with your walking safari, we also arrange those based on your preferences.  Awake in the morning and begin your walking safari with the goal of reaching your next accommodations that evening.  Some combination of driving game drives and walking can be built into your safari as you wish.
Our Family Expeditions team has personally visited over 90 lodges/camps in Africa over the last 30+ years.  We are uniquely qualified to plan your safari of a lifetime.  We take care of all the details and even have your greeted as you exit the airplane in Johannesburg to escort you to your next flight.  Details are important to you and they are extremely important to us!
Photo credits to Robin Pope and Wilderness Safaris