Alaska Bear Hunt and Moose Hunt
High quality Alaska bear hunt and moose hunting; One-on-one guided and low volume which ensures you an Alaskan Hunting Adventure of a Lifetime!
While there are no guarantees in any Alaska bear hunt or moose hunt, this outfitter can guarantee that he will give you a 100% effort to fulfill your Alaska adventure. They maintain an extremely high success rate for their clients through hard work, pride in their trophies and ethical practices. The owner is personally involved in all aspects of the hunt with your satisfaction as his primary goal.
There are two critical reasons we like this owner operated small Alaskan outfitter so much. First is the enormous amount of pre-hunt scouting he does from the air and on the ground prior to your arrival.  As a result your first camp location will be where they have seen good activity, not some random spot.  Second, he is willing to fly you to a new camp location if things are not going as well as expected.  This willingness to move you to another camp can be a vital part of your hunts success. There are many outfitters that will tell you they will move you but they really won't do it. Several of our clients have been moved resulting in their success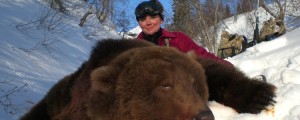 Your fall Alaska bear hunt and Moose hunt camps will be located in strategic areas where recent activity has been verified.  They hunt trophy brown bears in the beautiful Wood-Tichik State Park, which is the largest state park in North America. They only take 2-4 trophy moose hunters per year!  They limit the number of hunts to ensure the best possible trophies.
Spring Brown Bear hunts are conducted on snowmobiles and clients are lodged in a very comfortable remote cabin with hot showers and homemade meals.  This is an extremely high success adventure hunt when the weather cooperates!  Spring trophy bears tend to have a better coat and success on larger bears between 9 – 10 feet are very possible.  Needless to say, coming back to a warm shower, hot meals and a warm bed each night is a huge bonus.  This hunt is extremely weather dependent and having flexibility in your schedule is critical.  When the snow is great, access by snowmobile is equally fantastic.
Weather in Alaska is ever changing which is a great part of the adventure and can shape the success of any hunt.
A hunt with this Master guide outfitter is a one-on-one, high service Alaskan hunting adventure. They are happy to work with all levels of hunting experience, and to customize the hunt to your needs. A willingness to work hard, persevere, and stay positive are key components of an amazing Alaskan adventure