Argentina Luxury Wingshooting Mixed Bag
Argentina luxury wingshooting includes the mixed bag of duck hunting, dove, perdiz, pigeon, and dorado!  Argentina is known for its amazing hospitality and authentic estancia's.  Your experiences here will set the standard for future trips to South America.  Chef prepared meals, friendly experienced staff, and a warm and inviting atmosphere along with the amazing variety of bird hunting brings the discerning hunter back year after year.  The season is short and limited space is available so planning ahead is a must for this opportunity.
This lodge is located in the province of Entre Rios just north of Buenos Aires. The Lodge was built in a colonial style which recalls a bygone era yet has all the modern features of a small luxury hotel. You will not be roughing it here!
Whether organizing mixed-bag hunts, high volume dove shoots or cast & blast combos, their operational strategy is simple: "We strive to out-perform our competition by offering the very best in hunting and fishing programs while also maintaining the finest possible lodge amenities."
Entre Ríos Province quite literally translates into "between rivers." Drawing from three major water systems fed by different drainages, this region is a composite of rich agricultural land surrounded by vast forests and marshes with abundant rainfall year-round. This unique topography translates into incredible numbers of waterfowl annually. Fantastic Argentina duck hunting can only be topped by adding dove and perdiz on the same trip!  You will not lack in pulling the trigger on this trip.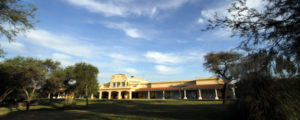 The sporting rosy-billed pochard is the dominant species here, and the dawn skies can quite literally run black as these large-bodied ducks waffle into your decoys. Other species, such as yellow-billed pintail and assorted teal, are also present in bountiful numbers providing a variety of shooting scenarios. Couple these Argentina duck hunting morning shoots with afternoon volume dove shooting or perdiz hunts, and you have a complete recipe for gunning satisfaction.
This brand new Estancia lodge is situated on a cliff 150 ft. above the massive Parana River, affording breathtaking views of the river valley from each of its 10 spacious rooms.
On our numerous visits to Argentina, we have hand selected only the finest lodges for our clients.
AGE APPROPRIATE: 10 yrs and older depending on type of experience selected.  This lodge also has a very small lodge nearby that would be perfect for a family group seeking privacy and a more flexible schedule.