Argentina Luxury Resort – Patagonia
Bariloche is home to this Argentina Luxury Resort in the Patagonia region and is one of the most intense and incredible places in Argentina. You will discover stunning views of its lakes, streams, rivers and mountains.
You will be mesmerized by the wonders that Nature gives you every day. You will enjoy the fresh air of the forest and the changing colors that the different seasons bring. The summer with its long sunny days, the colors of the rainbow during the fall and spring, and its unique white winter snows.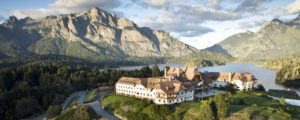 In 1934, the Patagonia and Andean regions were completely uninhabited and virgin territories.
In that year, with the creation of the Nahuel Huapi National Park, the construction of an International Hotel was started with the aim of developing the touristic potential of the area, together with the foundation of towns and development of communication networks.
Architect Alejandro Bustillo chose the Puerto Pañuelo area in order to build the hotel because, besides the magnificent and beautiful scenery, it had a port. Built with cypress logs and larch tiles in the Canadian home style, it was opened to the public on January 9th, 1938. On October 26th, 1939 a fire destroyed the building completely, but it was reopened on December 15th, 1940. Since then, members of the aristocracy, officials, diplomats and famous guests have stayed at the hotel. Although it closed in 1978 for a period of 15 years, the spirit of the hotel remained intact.
Built on a strategic site with stunning views of Moreno Lake and Mount Tronador.  An e