Alaska Inside Passage Adventure
An Alaska inside passage adventure is on almost everyone's bucket list but many people do not want to see it by cruise ship.  Family Expeditions wants to show you Alaska with unique itineraries!  You can see whales, visit glaciers, catch fish, enjoy fabulous hikes, see waterfalls, pull up crab pots for your dinner, kayak, visit quaint towns, see bears and so much more!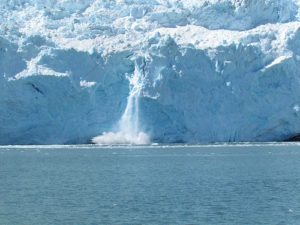 While every Alaska adventure itinerary that we build for you is unique, here is a sample.
7 day sample trip:  Itinerary will vary depending on your interests

Day 1:  Arrive in Ketchikan, Alaska where you will stay at the Cape Fox Hotel overlooking the quaint waterfront town of Ketchikan.
Day 2:  After breakfast, take a float plane to see bears at Anan Falls and/or Misty Fjords in the Tongass National Park.  Shop this afternoon at Creek Street.  Feast on King Crab Claws or a big thick steak this evening at dinner with big picture windows watching as eagles soar past.  And/or enjoy some time with our guide Rich to go see bears and totem park etc.
Day 3:  Depart today by float plane to one of 5 fantastic remote lodges for saltwater/freshwater fishing and/or eco touring.  We will assist you in selecting the perfect lodge that meets your interests.  Whales, sea otters, seals and eagles will be your companions for the next few days.
Day 4,5,6:  Take advantage of all all that is on offer at the lodge you have selected!  The fantastic people and the memories will surpass your expectations.
Day 7:  Begin travels home with lots of fish and/or memories and stunning photos  OR continue on by float plane to see glaciers at Whale Pass or Denali National Park and more
11 Day Sample:
Day 1:  Arrive in Fairbanks, Alaska and overnight at a local hotel.
Day 2:  Today, you will depart by train to Denali for 3 nights.  Activities are abundant from helicopters and tundra planes viewing glaciers, game viewing, gorgeous scenery, ATV tours, hiking and more.
Day 3,4:  Spend the days mesmerized by Denali National Park
Day 5:  The train will arrive back in Anchorage where you will overnight.
Day 6:  Arrive in Ketchikan, Alaska where you will stay at the Cape Fox Hotel overlooking the quaint waterfront town of Ketchikan.
Day 7:  After breakfast, take a float plane to see bears at Anan Falls and/or Misty Fjords in the Tongass National Park.  And/or enjoy some time with our guide Rich to go see bears and totem park etc Shop this afternoon at Creek Street.  Feast on King Crab Claws or a big thick steak this evening at dinner with big picture windows watching as eagles soar past.
Day 8:  Depart today by float plane to one of 5 fantastic remote lodges for saltwater/freshwater fishing and/or eco touring.  We will assist you in selecting the perfect lodge that meets your interests.  Whales, sea otters, seals and eagles will be your companions for the next few days.  Hopefully, you will arrive in time to enjoy an activity this afternoon!
Day 9,10:  Take advantage of all all that is on offer at the lodge you have selected!  The fantastic people and the memories will surpass your expectations.
Day 11:  Begin travels home with lots of fish and/or memories and stunning photos  OR continue on by float plane to see glaciers or Denali National Park and more