If adventure is what you seek, then you have come to the right place! This Arctic Outfitter is the oldest and most well-established in Nunavut, the northernmost territory of Canada. On a hunt with this outfitter, you will not only have an incredible trophy hunting experience but a unique look into the lifestyle and culture of the Arctic's Inuit people. Enjoy hunting for grizzly bears and other bear species, muskox, walrus, snow goose, wolf, wolverine, and caribou.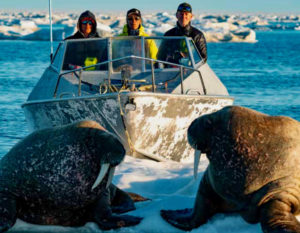 These hunts will take you on grand adventures with their different traditional techniques. Depending on the hunt, you could be taking boats out to patrol drifting ice and rocky beaches, using dogs to help you track animals, riding on ATVs across the snow/ice, finding migratory herd crossings, and more. Each hunt will provide you with memories that will last a lifetime and insight into the traditional Inuit hunting traditions.
The three lodging options are extremely basic and vary based on your hunt. The first is a mobile tent which will be set up every night at the end of your hunt. This option will be used during spring bear hunts and allows you to follow the bears. The other two options are a basic plywood cabin and a local community hotel. Both have rooms that could be classified as the 'bare minimum'.
Not only do we think this is an incredible experience, but so does Jim Shockey. Here is a summary of his personal testimonial about this outfitter:
"This lodge provides the five elements every hunt needs:
Family: You will be immersed in the family of your Inuit guide and trackers. You will meet their wives and their children. You will become part of the incredible community up there.
Culture: This is such an important part of any exotic hunting experience, and you won't find a destination more exotic than Northern Canada. You will experience the Inuit culture and learn their ways.
Adventure: Where could you have more or expect more adventure than the Arctic? Riding on dog sleds, going out over the ice after Muskox, boarding boats on the Arctic Ocean to go after Walrus. It will be an adventure, but you'll be safe on this adventure because that is what this lodge does.
Humor: That's what brings the smiles on a hunt. You quickly learn that humor is a big part of life in the Arctic. They have to laugh, and they love to laugh; it is a part of their ways.
Big Animals: When you are with this lodge you are going after the biggest bears, walrus, caribou, muskox; all animals from the last ice age.
This Outfitter has been in business for 40 years. I have travelled all over the world, and I haven't seen any place where the relationship between the outfitter and the local people is so together and so balanced.
Some of my fondest memories are being up in the Arctic with the good Inuit people, guides, and friends, and experiencing what it is like to be on the land with these people.
This is one of the best outfits that I ever been a part of and ever experienced around the world."