Idaho Fishing Lodge
This Idaho fishing lodge is family owned and operated since the 1920's with the owner now since 1987. So if you're seeking warm hospitality, impeccable meals, masterful guides and some of the best, world renowned rivers in the great northwest like Snake River fishing, you've come to the right place! For more than 90 years years this ranch has been providing outstanding service to fly fishermen from all over the world with a staggering 90% return rate.  We believe it to be some of, if not the finest fishing in the lower 48.
Located in Southeastern Idaho neighboring Targhee National Forest, the ranch is licensed on an honor roll of rivers in Idaho, Montana, and Yellowstone National Park including the Madison, Yellowstone, Henry's Fork and South Fork of the Snake River.  It is truly a fly fisherman's dream come true.  The home rivers are within 15-45 minutes of the lodge! This lodge is extraordinary in that fishing days are arranged to satisfy the desire of each angler. Should you want to float every day, you float. If you want to spend a week stalking selective or large trout, then stalk you will. Most guests split their time between wading and floating, thus enjoying the best of both worlds.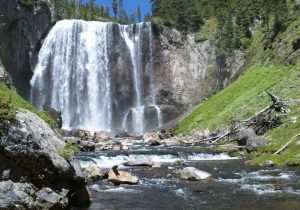 If adventure fishing appeals to you, they offer long hikes to great mountain lakes or boat "ramps" that drop the boat by ropes hundreds of feet down into a canyon.  Overnight at the deluxe tent camp on the South Fork! Options are nearly limitless. The blue-ribbon rivers and streams running through ranch property or located just a stone's throw from the main gate are among America's best.
For a family of anglers, this is mecca!  Every day is a new experience and the fishing is so productive that entertainment in any other form is unnecessary.  The overnight on the South Fork, should not be missed.
"Every guide is a veteran angler and is part of the family. They know the waters from top to bottom and precisely how to fish them, regardless of the time of year. Whether you are fishing as a single angler, among a large group, or have special needs our guides work together to make your fishing experience more pleasurable."