Costa Rica Fishing Resort
This family friendly, luxury fishing resort is located on Costa Rica's South Pacific Coast on the Osa Peninsula where world-class fishing meets unbelievable activities. Fish the Pacific Ocean for Sailfish, Striped, Blue and Black Marlin, Dorado, Tuna Wahoo, Roosterfish, Cubera Snapper, Jack Crevalle, Bluefin Trevally, Sierra Mackerel, Tripletail, and Grouper. At this family friendly fishing resort, you will also find incredible activities. These activities will allow you to experience Costa Rica in amazing and unique ways. For example, your family can enjoy zip lining, hiking trails, eco tours, horseback riding, relaxing by the pool, waterfall exploring, and more.
The Osa Peninsula has been referred to by 
National Geographic Magazine 
as "
The most ecologically intense place on Earth
". The peninsula is home to Corcovado National Park as well as over 400 bird species and 250 species of mammals. It is where the edge of Costa Rica's largest coastal rainforest meets the pacific. Because of the amazing wildlife in the area, you can enjoy over 25 exotic eco-tours.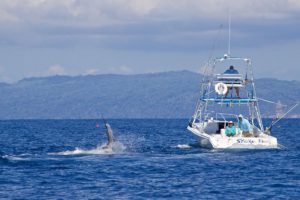 In 2021, this luxury fishing resort was completely updated! It is home to 1, 2, or 3-person luxury rooms, studios, villas, and garden suites. Enjoy the 2000 ft. luxury spa with over 20 relaxing massages and beauty treatments. It also has a lagoon-style pool, a fitness center, views of the jungle, and lounges. The sleek and eco-friendly architecture and design seek to blur the lines between the indoors and outdoors. An 800-ft. pier with the largest private fleet of high-end fishing boats in Central or South America completes the resort.
The luxury fishing resort offers all-inclusive Costa Rica sport fishing packages for serious fishermen. They also have spa and eco-adventure packages for non-fishermen. Because of these diverse packages, this fishing resort is the perfect family friendly destination with unique activities so everyone enjoys their time in Costa Rica. The activities and the nature surrounding this resort are sure to captivate everyone in your group, angler or non-angler. All of your tour guides and captains will be English-speaking.
There is a variety of fishing options. Specifically, the options are live bait, trolling, casting, and fly fishing inshore on Costa Rica's "Sweet Gulf" (Golfo Dulce). If you are after billfish, you will be thrilled to be fishing for them within 30 minutes of leaving the dock! Your guides are masterful at their craft. Because of their generational education, you will be learning the ins and outs of their techniques which will set you up for success. If you are ready for a great fight on the waters for billfish, this is your dream location.
Our travel team can customize your Costa Rica vacation package. For example, it can include sport fishing, adventure eco-tours, or just a spot on a secluded beach – Costa Rica's Osa Peninsula has it all! Costa Rica's finest all-around fishing!
Some photos courtesy of Pat Ford
Accommodations & Meals
The resort was just redesigned in 2021 with luxury in mind! The goal for the redesign was to use organic lines and decor to blur the lines between the indoors and outdoors. Each room has been designed with your comfort and enjoyment at the top of mind.
The rooming options consist of 1, 2, or 3-bedroom luxury rooms, studios, villas, and garden suites.  The rooms give you the feel of being in an airy jungle lodge. All rooms are spacious with AC, purified water dispenser, safe, alarm clock, and queen sized beds. Often when you walk out onto your deck you will have a Macaw serenading you in the trees.
The resort is situated on 44 acres of lush tropical gardens with 40 air-conditioned rooms in Puerto Jimenez on Costa Rica's South Pacific Coast.
The resort features an all-inclusive daily menu with fresh fish (no shellfish), swimming pool, hot tub, 2,000 sq. foot luxury spa and conference center that accommodates up to 80 people.
Swimming Pool & Jacuzzi: The pool area is a great option for relaxing between your fishing and jungle adventures! Pull up a cool seat at our swim-up bar for an exotic cocktail or enjoy an evening seat in the Jacuzzi the watch the scarlet macaws and other wildlife in the surrounding jungle trees. The jungle sounds are intense in the evening and provide the ultimate soundtrack for to enjoy your vacation and forget the stress of everyday life. They also offer poolside massages from the spa staff during happy hour.
Spa: 2,000 square foot, newly-constructed luxury spa offers guest 6 private massage rooms, locker room and shower area, and a spacious relaxation room for enjoying a glass of wine, raw juice or mineral water while you wait. Once you walk in the front door you will be greeted by gentle aroma therapy and sounds of the rainforest coming from the high-end audio system. Choose from over 25 Spa treatments or mini-day spa packages for guests that prefer not to fish or take part in eco-tours.
Fishing
Enjoy world-class catch and release bill fishing in the Pacific Ocean for sailfish, striped, blue and black marlin, dorado, tuna and wahoo. You can also fish in the calm waters of Costa Rica's Golfo Dulce (Sweet Gulf) for roosterfish, cubera snapper, Jack Crevalle, bluefin trevally, sierra mackerel, tripletail and grouper. This fishing is excellent year around.
Not only is bill fishing sensational in Costa Rica's cobalt offshore waters,  it is also fantastic in the 15 mile wide, 30 mile long Sweet Gulf which offers some of the best inshore fishing action in Costa Rica. More than 40 IGFA world records have been established in the area. A variety of fishing options exist, such as live bait, trolling, casting and "Costa Rica" fly fishing inshore and offshore.
There are numerous price points for fishing packages depending on the number of fishing days, number of people in a room, number of people on a boat and the boat type. While the various boats can go out to the deeper waters, some are more comfortable and spacious than others. For a new adventure enjoy kayak fishing and guided surf fishing!
Boats:
Our fleet is comprised of 33 foot Strike Tower boats. We also have 24 and 25 foot Boston Whaler Outrages.
All of boats have the ability to fish either offshore or inshore because of our generally calm sea conditions.
Activities
While fishing is one of the main activities at the resort, numerous other eco activities are offered. You will simply pick an "eco adventure" or "spa" package plan. Children 12 and under are half price with two paying adults!
Keep in mind that there is not a beach in front of the lodge for your use. If you wish to spend time on the beach you will take a shuttle to Precious Beach. This is a secluded, unspoiled beach perfect for bodysurfing, swimming, and catching some sun. There is a nearby outdoor bar which offers access to showers, restrooms, lounge chairs, and a juice bar. Here is the list of available activities: (2 person minimum required-see website for activity descriptions)
Explore the Osa Rainforest
Corcovado National Park
Finco Kobo Chocolate Farm
Bosque las Tilapias
Miramar Canopy Zip-line
Night Canopy Zip-line
Waterfall Climbing/ Rappelling
Mangrove Kayak
Sunset Ocean Kayak
Puerto Jimenez Biking
Cross Country Biking
Half-day Horseback
Full-day Horseback
Bird Watching – Intro
Osa-Wildlife Sanctuary
2 ½ Bird watching In-depth
Guaymi Indigenous Reservation
Golfo Dulce Excursion by Boat
Snorkeling the Golfo Dulce
Surfing Pavanoes Beach
Surfing Matapalo Beach
Jungle Night Watch
Gold Panning
Butterfly Farm and Crocodile Lagoon
Playa Precious (Precious Beach)
The Monkey Tour
Osa Palmas Canopy Zip Line
Luxury Spa
Game room
Kayak fishing
Guided Surf fishing
Sea turtle rescue
Length of Stay / Itinerary
Most trips are 3 – 7 nights. Each itinerary is customized for your interests.
Day 1:  Arrive San Jose where you will be greeted by a lodge representative and transferred to a luxury hotel for the evening.
Day 2: Your greeter will transfer you back to the airport for your short prop plane flight to the Osa Peninsula where you will again be greeted for your short road transfer to the lodge.  You should arrive in time for an afternoon activity.
Day 2 – Day of your choosing:  Enjoy the numerous eco activities and fishing.
Departure day:  The lodge staff will transfer you back to the airport for your short flight back to San Jose and onward to home.
Travel Details & Location
You will fly in and out of San Jose, Costa Rica.  The resort is located on the Osa Peninsula near the city of Puerto Jimenez.
Internet & Communications
Internet access in the lobby and there are phones in the rooms.  Cell service is spotty.
Rates
Rates: Packages begin at $1,985 pp Call for more details or customized packages
Trip Insurance & Cancellation Info
Trip insurance is highly recommended to protect your investment on this trip. We will assist you with trip insurance upon booking. See links at the bottom of this page for the two providers we suggest for our clients.
Family Expeditions, LLC confirmation and refund policy:
If your trip is more than 90 days out from date of departure, a 50% non-refundable deposit confirms your reservation and must be received within 10 days of booking to confirm your dates. All trips must be paid in full at least 90 days prior to the departure date. If your trip date is within 90 days, FULL payment for the trip is required. All payments to Family Expeditions are non-refundable. Should you need to reschedule or cancel your trip, we will do everything in our power to assist you in finding a suitable substitute or transferring your dates per the lodge/providers/government requirements. Trip insurance protects your investment!