Namibia Luxury Photo Safari
Namibia, considered by many to be one of the safest countries in Africa, is a sparsely populated vast land.   This desert country offers a variety of unique destinations for the avid adventurer.  Your Namibia luxury photo safari might include hot air balloon rides over the desert, visits to the famous Himba people (known as the red people), Etosha Game Park, the Skeleton Coast, Dune surfing, desert creatures tours, Dolphin cruises, private game reserves and more.
All itineraries are customized for your pleasure.  Since the country is so large, about the size of Texas, light aircraft is often used as a means of transfer from one location to the next.  Have you ever dreamed of a truly customized and unique safari where you are hosted by one of Namibia's greatest families?  Here it is!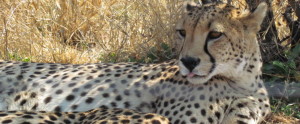 We have provided a sample itinerary under the "Itinerary" tab.  This may give you an idea of the possibilities.  It really takes  a minimum of 10 days to tour Namibia because of the distance between locations.  We offer fantastic hunting safaris in Namibia as well that make for a perfect combination hunting and touring vacation.
When we design your African safari you can expect the following:  We will listen as you share your vision of what your African Safari Experience should look like.  We then begin designing your safari with lodge and destination selection, activities selection, flights, meet & greet services, travel insurance, clothing & equipment list, countdown to Africa (this assist you with detail preparation leading up to trip time), detailed pricing with all included/not included items, and more.
As a full service African Safari specialists, we have visited over 80+ safari lodges in Africa over the last 30 years.  We selected only a handful of those for you that have met our strenuous criteria.  Combination big game hunting, bird hunting, photo safari, Cape Town and Victoria Falls safaris are our specialty.
We would like to thank Wilderness Safaris for some of the photos in our photo area.
Length of Stay / Itinerary
All of our photo safaris are custom built for our clients.  Below, you will find a sample itinerary as an example:
Day 1:  Overnight in Johannesburg
Day 2:  Fly to Windhoek, Namibia for your light aircraft flight to Little Kulala for two nights located in the Sossusvlei where excursions into the Sossusvlei, nature drives and walks a wait.
Day 3:  Enjoy the activities at the lodge which could include a hot air balloon Namib sky adventure.
Day 4:  Fly by light aircraft to Hoanib Skeleton Coast for two nights.  Where desert adapted wildlife such as elephant roam.
Day 5:  Enjoy scheduled activities and the amazing coast line where the name "Skeleton coast" evolved from the numerous shipwrecks on the coastline.
Day 6:  Fly by light aircraft to Serra Cafema via the Skeleton coast for three nights in a tented luxury camp in the Northwest remote part of Namibia.
Eight canvas and thatched chalets overlook the River and activities include walking, birding, viewing breathtaking landscapes as well as carefully guided quad-bike excursions and game drives.  In this isolated region, the Himba people continue their nomadic traditional way of life and offer guests the opportunity to learn about their lifestyle and traditions.
Day 7 – 8:  Enjoy the activities at the lodge
Day 9:  Fly by light aircraft to Etosha Game Park for excellent game viewing during the dry months of July through October.  Spend three nights in Etosha at a luxury lodge.  OR you could fly back to Windhoek, overnight and fly to the lodges in the Okavango Delta, Botswana for water and land game drives at any of the luxury lodges in the Delta.
Day 10 – 11:  Enjoy Etosha Game Park and twice daily game drives
Day 12:  Depart for home
Changing Generations
MAKE A DIFFERENCE IN YOUR FAMILY OR COUPLE ON THIS TRIP:  IT'S SIMPLE
Wouldn't it be wonderful if you could add more meaning and improve your relationships on every vacation with your family or spouse? Below are two easy steps to becoming intentional as you travel:
TWO EASY STEPS:
1.  Watch this video:
2.  Click on the link below for step by step ideas of how to add more meaning to your family/couple travel:
Rates
Since all of our itineraries are customized for our clients desires, the pricing is reflected as such.