Namibia Luxury Photo Safari
Because of our expertise, your Namibia luxury photo safari will be customized to suit your interests. Since Namibia is sparsely populated and enjoys a stable government, it is considered one of the safest countries in Africa.
This desert country offers you a variety of unique destinations for the avid adventurer.  Your Namibia luxury photo safari might include hot air balloon rides over the desert, river cruises, visits to the famous Himba people (known as the red people), Etosha Game Park, the Skeleton Coast, Dune surfing, dune hiking, Namib Desert, sossusvlei, desert creatures tours, dolphin cruises, private game reserves and more.
All itineraries are customized for your pleasure.  Since the country is so large, about the size of Texas, light aircraft is often used as a means of transfer from one location to the next.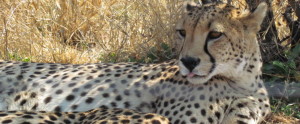 We have provided a sample itinerary for you under the "Itinerary" tab.  This may give you an idea of the possibilities.  It really takes  a minimum of 10 days to tour Namibia because of the distance between locations.
When we design your African safari you can expect the following:  We will listen as you share your vision of what your African Safari Experience should look like.  We then begin designing your safari with lodge and destination selection, activities selection, flights, meet & greet services, travel insurance, clothing & equipment list, countdown to Africa (this assists you with detail preparation leading up to trip time), detailed pricing with all included/not included items, and more.
As a full service African Safari specialists, we have visited over 90+ safari lodges in Africa over the last 30+ years. Because of our extensive first hand experiences, we are uniquely qualified to design your bespoke safari.
We would like to thank Wilderness Safaris for some of the photos in our photo area.