New Zealand Hunting – Marlborough
You will find authentic New Zealand hunting both free range and preserve!  This New Zealand hunting lodge is nestled on 9,000 privately owned acres.  You will be hunting in the heart of Marlborough high country in the northern part of the South Island.  From this lodge you will have the opportunity to hunt Red Stag, Elk, Himalayan Tahr, Chamois, wild Goat, Arapawa Ram, Fallow Deer, Turkey, Wallaby, and waterfowl.  Beyond their 9,000 acres you can enjoy elite access to tens of thousands of acres of free range land for Chamois and Tahr.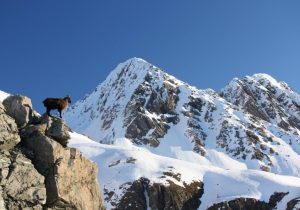 Central to New Zealand, Marlborough is the gateway to the North and South Islands. Because of the climate and location you will have access to world class wine estates, whale watching, chocolate and exquisite seafood. The area is a regular record holder of sunniest town in New Zealand.
You and/or your group will enjoy exclusive use of 9,000 acres of prime hunting land inclusive. The make up of the property is a 2,000 acre preserve and 7,000 acres of productive free-range hunting.  You will also have the the two bedrooms well-appointed lodge exclusively.  Since you book the lodge privately, no other guests will be on the property or at the lodge during your stay.
The hunting is without compare among New Zealand hunting estates.  Unique to New Zealand hunting, this outfitter hunts an enclosed 2000 acre area on some of the most prime vegetation land.  The game enjoy the entirety of property.  Why is this important? The majority of the game in the preserve is a natural fully self-sustaining herd.  Therefore to you that means the game is not domesticated providing for a challenging and rewarding hunt.  This is a rarity in the New Zealand hunting.
Since they offer dedicated touring guides you will be sure that the entire group enjoys engaging adventures.