New Zealand Hunting – Marlborough
At this New Zealand destination, you will find privately owned, authentic preserve and free-range Red Stag hunts and more! This family friendly New Zealand hunting lodge is nestled in the middle of 6,400 privately owned acres in the heart of the Marlborough high country in the northern part of the South Island. The 6,400 acres consist of a 1,400-acre preserve and 4,000 acres of productive free-range hunting for Red Stag and other species, a rarity in New Zealand. Because of the climate and location, you will have access to world-class wine estates, whale watching, chocolate, and exquisite seafood. This area is also a regular record holder of the sunniest town in New Zealand.  Along with the amazing stag areas, you will also enjoy hunting the finest private free range areas for Himalayn Tarh and Chamois.
On this property, you will have the opportunity to hunt for a free range Red Stag, Elk, Himalayan Tahr, Chamois, Wild Goat, Arapawa Ram, Fallow Deer, Turkey, Wallaby, and waterfowl. Located only a few scenic hours away, you may hunt Himalayan Tahr and Chamois on tens of thousands of acres of free-range land.  
Many guests enjoy a four-night stay hunting red stag and other species, and then travel with their guide to scenic hunting areas for Tahr and Chamois. Then they go onward to Queenstown.  Queenstown offers gorgeous views, Lord of the Rings touring, jet boating, lovely shopping, adventure activities, and more.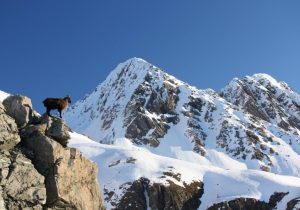 The hunting at this Red Stag hunting lodge is without compare among New Zealand hunting estates. For example, unique to New Zealand hunting, this outfitter hunts an enclosed 1000-acre area on some of the most prime land in the country. Here, the game enjoys the entirety of the property. Why is this important? Because most of the game in the preserve is a natural, fully self-sustaining herd. That is to say, the game is not domesticated, providing for a challenging and rewarding hunt. This is a rarity in New Zealand hunting. Some hunters like the uniqueness of hunting free range Red Stag and preserve on one trip.
You and/or your group will enjoy exclusive use of the total 8,000 acres of prime hunting land. During your time in New Zealand, you will also have exclusive use of the family friendly hunting lodge. It hosts two, well-appointed bedrooms. No other guests will be on the property or at the lodge during your stay.
Since they offer dedicated touring guides, you will be sure that the entire group enjoys engaging adventures.
Accommodations & Meals
Secluded without being isolated, the lodge is the perfectly located in the Marlborough country less than an hour from Blenheim and Picton. Its location makes it a perfect combination adventure of hunting and touring.
The lodge is set on the hunting property right along a lovely creek in the valley with beautiful views.
The lodge features two private bedrooms with private baths and a den with large windows overlooking the creek below.
You and your group will enjoy the lodge and the property exclusively as they only book one group at a time at the lodge.
Either Sarah, one of the owners, or a private chef will ensure that you enjoy each and every meal.
Fishing
It is no secret that New Zealand offers some of the best trout & salmon fishing in one of the world's most spectacular locations. If you are considering coming to New Zealand to hunt and happen to enjoy the feeling of a fat trout on the end of your fly rod at the same time, then no trip prior to May should be considered without entertaining the option of some superb local fishing.
This area is renowned for its fishing and your guides know the area well.  They will put you on the fish!
Hunting
In a land where no native mammals exist, New Zealand was fortunate to have many game animals introduced such as Himalayan Tahr, Chamois, Red Stag, Fallow Deer, wild goats, Arapawa Ram, upland game, Merriam Turkey and more.
This 6,000+ acre hunting property is located at the top of the South Island, and the lodge itself is centrally located to give easy access to hunt all New Zealand's varied game animals.  1,400 acres is under strict management for large native red stag and huge fallow.
This outfitter offers a smaller, premium hunting experience with hunters and non-hunters requests catered for specifically. Each week of hunting will be carefully designed to meet each hunter's needs and requests. Hunters will have the lodge to themselves unless prior arrangement is made.
Hunting is typically spot and stalk and caters to both rifle and bow hunters. Rifle hunters can expect shots between 100-200 yards but the ability to take shots out to 300 yards is an advantage.
Preserve Red Stag:  Roar is late March – early May. 
This preserve property is one of the prettiest hunting properties in New Zealand and the entire property is huntable!  There is no wasted area on this land.  All hunting is by spot and stalk or on foot.  Your hunting method is up to you.  ATV's are used for access if desired.
This hunt is conducted on 2,000 acres of the most beautiful and high in natural nutrients land we have seen in New Zealand.  The 2,000 acres is varied in terrain and probably hunts an equivalent of 4,000 – 5,000 acres.
Bow hunters have a high opportunity for a stag.
Free Range Red Stag:  February to July (Prime time March 20 – April 20 time frame for the roar)
This is one of the finest areas for high opportunity free range Red Stag hunting in New Zealand.  Your guides know this area like the back of their hand and will give you the best possible opportunity for success.
Free range stag in New Zealand are much smaller than the preserve stags and are a real challenge to hunt.  A typical free-range stag will score in the 250-280 range which is good representative stag.  Bow hunters also enjoy a pretty high opportunity rate for those that can shoot 40 yards.  Bow stags will likely be smaller than rifle stags.
There is no tiered pricing for free range stags.
Himalayan Tahr:  Prime time May – July but available year around
Hunts are conducted on foot but with a helicopter drop off on the large free range property near Mount Cook in a very scenic area worthy of some added touring time.  A fun addition to this hunt is Wallaby hunting in the evenings at no extra cost.
Bow hunting for Tahr is tough but can be high opportunity if you are in good shape.
Chamois:  Prime time October – February but available year around. The largest Chamois typically appear in October. February coats are magnificent!
Chamois hunting is conducted near the Franz Joseph Glacier on foot with no heli-assist needed. Hunters may either hunt on foot or sit in a prime location where the Chamois come out to graze in the evenings. This can be combined with magnificent touring in the area as well.
Wingshooting:
A fun outing of wingshooting is an option for California Quail.
Turkey Hunting:
Spot and Stalk Turkey hunting for Merriam's with high opportunity is a fun add on to any hunt.
Terrain: Gently rolling hills, rugged mountains and abundant vegetation
Bows hunters can expect shots between 10-50 yards.
Rifles can be borrowed at no charge.
Activities
Family Expeditions will plan your touring before or after your hunt.  Nearby, you will find some activities available from the lodge and property.
Scenic Flights – With such spectacular scenery, often the best way to capture the experience is from the air. Travel the rugged Kaikoura coastline, Marlborough Sounds or view the northern reaches of the Southern Alps either by helicopter or fixed wing aircraft. Helicopter and fixed-wing aircraft can all land next to our secluded lodge to wish you away for a day's adventures.
Marlborough Sounds scenic flight & picnic- Take a scenic flight through the Marlborough Sounds and enjoy an included picnic lunch. This meal will consist of seafood you gather during the trip. This often includes a shopping trip to Nelson.
Scenic Walks
Coastal railway trip – Blenheim to Kaikoura or Christchurch.  A great way to see the coast of New Zealand and wildlife along the way in the ocean.
Wine tours – Marlborough is a world famous wine region. You can go on tours of some of their best wineries in the area.
Shopping in quaint villages such as Blenheim, Picton or Nelson 
Whale Watching in Kaikoura – Other popular features of the Marlborough region include a trip to Kaikoura to experience the whale watch. With regular trips throughout the day either by cruise or by plane, it is easy to accommodate a trip to see the whales. Alternatively, you can fly directly from the lodge to Kaikoura by plane or helicopter and enjoy a scenic flight through the inland and seaward Kaikoura mountain ranges before encountering the whales in Kaikoura. 95% of guests see whales whether by boat or plane!
Dolphin Swimming in Kaikoura
Deep sea fishing in Kaikoura
Day Spa options
Queen Charlotte Track for coastal walking and biking

Marlborough Sounds – Sea kayaking and short cruises in the sounds

Ferry ride with hope of seeing dolphins from Picton to Lochmara Café for lunch overlooking the sound.
Omaka Aviation Heritage Museum – An extensive collection of WWI and WWII aircraft and artefacts featuring dramatic scenes created by Wingnut Films and Weta Workshop. Guided tours available.
Chocolate and Honey factories – Continuing with Marlborough's passionate relationship with food and drink, no trip to this area would be complete without a tasting at Makana Chocolate Factory perfectly located on the region's most popular wine trail, Rapaura Road.
Marlborough's extensive manuka clad valleys create the perfect environment for producing the popular Manuka Honey. With manuka honey's documented health benefits, local producers, The Taylor Pass Honey Company, provide an opportunity to taste and purchase all their products at their Blenheim store. Featuring not only the famous manuka honey but a variety of other locally produced honeys such as clover and blue borage.
Shooting sports – on property shooting sports include sporting clays, long range rifle shooting, pistol range and even knife throwing.
Let us plan a few days in Queenstown and Milford Sound following your stay in the Marlborough region.  A perfect addition whether to continue your hunting or to see another part of the country.
Length of Stay / Itinerary
Guests fly into Blenheim and typically overnight at a very nice local hotel that we book on your behalf.  The next day your host will collect you from the hotel for your transfer about one hour to the hunting property.  This allows you to have some time to adjust to the new time zone before starting your hunt.
Length of stay will depend on the species you are hunting and how you are hunting.  All itineraries are customized to fit your desires.
Travel Details & Location
Guests fly into Blenheim and typically overnight at a very nice local hotel that we book on your behalf.  The next day your host will collect you from the hotel for your transfer about one hour to the hunting property.  This allows you to have some time to adjust to the new time zone before starting your hunt.
Internet & Communications
Wifi and cell service work well in the area.
Rates
2023 Rates:  Please call for updated pricing.

Five Day/Four Night 2×1 Guided Red Stag packages with lodging, meals, guide, transfers, and trophy fee as listed:  SCI Scoring system used

Free Range           USD $6,000 Per Person
Up to 350               USD $6,500
Up to 375               USD $7,500
Up to 400              USD $9,500
Up to 425               USD $12,000
Up to 450               USD $16,000

For 1×1 Guided: add $1,000 to the package price 
Alpine Package:  $17,000 for Red Stag, Tahr and Chamois Combo

7 Nights/8 days lodging, meals, guided 1×1
Trophy fees for a Red Stag up to 350, best available Tahr and best available Chamois
Trip Insurance & Cancellation Info
Trip insurance is highly recommended to protect your investment on this trip. We will assist you with trip insurance upon booking. See links at the bottom of this page for the two providers we suggest for our clients.
Family Expeditions, LLC confirmation and refund policy:
If your trip is more than 90 days out from date of departure, a 50% non-refundable deposit confirms your reservation and must be received within 10 days of booking to confirm your dates. All trips must be paid in full at least 90 days prior to the departure date. If your trip date is within 90 days, FULL payment for the trip is required. All payments to Family Expeditions are non-refundable. Should you need to reschedule or cancel your trip, we will do everything in our power to assist you in finding a suitable substitute or transferring your dates per the lodge/providers/government requirements. Trip insurance protects your investment!