This lodge combines Argentinian red stag, mouflon, blackbuck, wild boar, water buffalo, duck and Himalayan tahr hunting with accommodations that will make you feel right at home. The 18,000-acre property is made up of lush fields, brush-filled areas, and creek beds. The lodge is in the heart of the property where there is 120 acres of manicured green grass. This area sits on the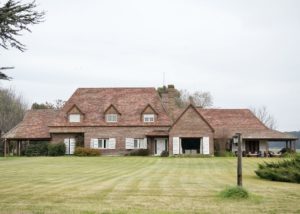 northern slopes of the Pillahuinco Sierras which are part of the Sierra de la Ventana mountain range, so you have beautiful distant views of the mountains when the weather permits.
Your hosts are funny, laid back, and speak English. They will welcome you into their family home with open arms and great food! Built fifty+ years ago, your home during your stay is a charming lodge filled with rich woods, comfortable furniture, and the family's memories. Enjoy coming back each day to a large fire with appetizers and snacks laid out in front of it as you recount the morning or afternoon's adventures before you indulge in a home-cooked, family-style meal. If the weather permits, take a plunge in the pool only a few steps away from the lodge.